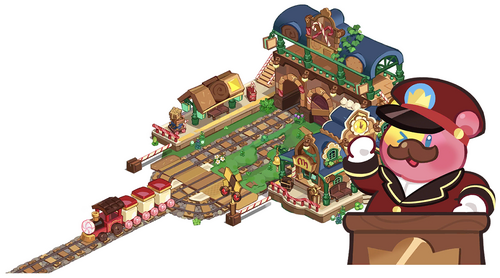 You can trade with other Kingdoms with the Bear Jelly Train. Send the requested materials and, after some time, receive your payment. Your train can return with any of the following: Coins, Crystals, Kingdom EXP, Rarities, Treasure Tickets, Topping Pieces, etc. The longer it takes to create a requested Material, the higher the chance for the train to return with more valuable goods or Rarities.
If you need Rarities, prioritize trading with the Bear Jelly Trains, this is the best way to get them!
Train Station Upgrade
Keep upgrading your Cookie Castle, and with time, you will unlock up to three Bear Jelly Trains using Coins. The first train is available at Castle lv. 4 after restoring the Bear Jelly Train Station. The second is available at Castle lv. 6, and the third is available at Castle lv. 8.