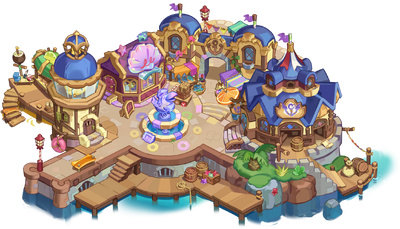 Touc's Trade Harbor is an area in the Kingdom, upgraded from the Trading Port. It is available by completing a questline unlocked at Cookie Castle Lv. 8, and contains both the Seaside Market and the Rainbow Shell Gallery.
At the Dock, players may load any number of Goods or Materials they have onto a Trade Ship. Each item is worth a particular number of Trade Points; the greater the amount of Trade Point earned from loading items onto the Trade Ship, the greater the rewards. For each Trade Ship, two expensive Goods are chosen randomly each day as "2x Cargo Items", granting twice the number of Trade Points when loaded onto the Ship.
Trade Ships will depart at midnight (GMT +9) as long as they have at least 10,000 Trade Points' worth of cargo loaded. Trade Ships with less than this minimum amount will fail to depart, with any cargo loaded remaining onboard. Trade Ships return 10 minutes after midnight, rewarding Rainbow Pearls, Coins, and Sea Rarities based on the total number of Trade Points delivered.
The Trade Harbor serves as the sole primary source of Rainbow Pearls, which are used to purchase rare and valuable items from the Rainbow Shell Gallery (such as Legendary soulstones and Relics.) Kingdoms that can efficiently produce end-game items can regularly fill up Trade Ships without sacrificing too much in return, especially with the help of the 2x cargo bonus.
A second Dock can be unlocked for 5000 Rainbow Pearls once a player's Cookie Castle reaches Lv. 12, granting access to an additional Trade Ship. This ship has a separate pair of bonus Goods chosen, but otherwise departs and arrives at the same time.
Questline
Quest Label
Description
Reward
Let's Start Packing!
Securing Land for the Trade Harbor1

17,000

15,000

6

A Trader's Prospects
Deliver 20x Biscuit Flour

17,000

15,000

6

Trade Harbor, You Say?
Upgrade the Seaside Market

17,000

15,000

6

Building Requirements:

Trade Harbor
The Golden Age of Trading
Have the Trade Ships return to the Trade Harbor 1 time

17,000

15,000

6

1 Clear the territory tile to the top-right of the Trading Port
Trade Points
Trade Point Values

1

2

3

5

15

21

31

37

58

62

66

95

135

138

184

205

208

267

338

380

414

453

473

519

528

633

634

682

948

951

1,382

1,453

1,553

1,574

1,599

1,685

1,689

1,824

1,879

2,123

2,166

2,545

2,854

2,926

3,986

4,269

4,750

4,752

4,789

5,047

5,950

5,958

6,700

7,570

8,270

8,436

8,667

9,121

9,499

9,913

10,958

12,561

13,996
Trade Point Value Per Minute

2.0

2.0

2.0

6.8

7.0

7.4

7.6

7.7

7.8

7.9

7.9

8.7

9.2

9.4

10.0

10.0

10.2

10.3

10.3

10.4

10.5

10.6

10.7

11.3

12.0

12.1

12.2

13.2

14.0

14.8

14.8

15.1

15.4

15.7

15.9

16.1

16.3

16.5

17.3

17.6

17.6

17.7

17.7

17.8

18.7

18.8

19.0

19.0

19.7

20.1

20.3

20.6

20.7

22.3

22.7

24.4

24.4

24.8

25.3

25.9

26.0

27.9

29.2
Rewards
Score
Basic Rewards
Extra Rewards
10,000 pts

300

30,000

1−3

1−3

12,000 pts

360

33,000

1−3

1−3

14,000 pts

420

36,000

1−4

1−4

16,000 pts

480

39,000

1−4

1−4

18,000 pts

540

42,000

1−5

1−5

20,000 pts

600

45,000

1−5

1−5

22,000 pts

660

48,000

2−5

2−5

24,000 pts

720

51,000

2−5

2−5

26,000 pts

780

54,000

2−6

2−6

28,000 pts

840

57,000

2−6

2−6

30,000 pts

900

60,000

2−7

2−7

32,000 pts

960

63,000

2−7

2−7

34,000 pts

1,020

66,000

3−7

3−7

36,000 pts

1,080

69,000

3−7

3−7

38,000 pts

1,140

72,000

3−8

3−8

40,000 pts

1,200

75,000

3−8

3−8

42,000 pts

1,260

78,000

3−9

3−9

44,000 pts

1,320

81,000

3−9

3−9

46,000 pts

1,380

84,000

4−9

4−9

48,000 pts

1,440

87,000

4−9

4−9

50,000 pts

1,500

90,000

5−10

5−10