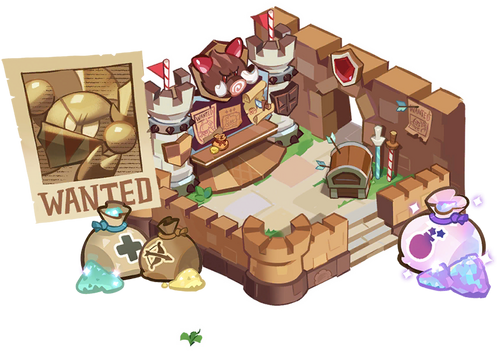 Bounties are where a player battles sinister bosses to earn Skill Powders. A set rotation of different bounties are featured daily throughout the week, and can be checked in-game at any time under the "Daily Rewards" button on the Bounties page.
From Monday to Thursday, two different bosses can be battled, each offering a unique class of Skill Powder. Bounties on Friday and Saturday offer four bosses instead of two, while Sunday's Bounty will grant all types of Skill Powders at a reduced quantity.
There are a total of 9 bosses. Each boss has 10 levels and yields a different set of Skill Powders. Once you defeat a level, the next level is unlocked permanently. Each level of a boss grants a different grade and quantity of Skill Powders. Each Boss has its own characteristics, and every day, a random set of Cookie classes will receive a buff during combat. Take these into careful consideration when building your team for the day!
Bounties can be attempted three times per day at default. Only when a Bounty is defeated will your number of attempts be spent, making it easier for new players to attempt higher-difficulty bosses. When collecting Skill Powders, be sure to plan which bosses to take on wisely. Purchasing the Kingdom Pass will grant two additional attempts per day for a total of 5. Once all your attempts for the day are depleted, you can buy 3 additional attempts at the cost of 300 Crystals, an expense that can have greater value when combined with a Burning Time bonus. Attempts can only be refilled 3 times a day.
Bonus Effects
Every day, each Bounty boss grants three random classes of Cookies buffs, which are also chosen randomly from a pool. These class choices typically consist of one "Support" class (Healer/Support), one "DPS" class (Ambush/Bomber/Magic/Ranged) and one "Tank" class (Charge/Defense).
Random Bonus Effects
"DPS"
ATK
ATK SPD
CRIT
CRIT DMG

x1.5 - x3
x1.5 - x2
x3%
x3 - x3.5

x1.5 - x3
x1.5 - x2
x3%
x3 - x3.5

x1.5 - x3
x1.5 - x2
x3%
x3 - x3.5

x1.5 - x3
x1.5 - x2
x3%
x3 - x3.5
"Support"
HP
DEF

x1.5 - x2
x2 - x2.5

x1.5 - x2
x2 - x2.5
"Tank"
HP
DEF

x1.5 - x2
x2.5

x1.5 - x2
x2.5
Bosses
Howdy! It's Bounty Hutin' Time! (main theme); Disc 1 Track 24
Gear Up & Prepare For Battle! (battle preparations theme); Disc 1 Track 16
Venture Fourth! ; Disc 1 Track 17
Nothing Can Stop Us; Disc 1 Track 24
Through Unknown Lands; Disc 1 Track 40
A Battle Like None Other (when encountering the boss); Disc 2 Track 15