| | | |
| --- | --- | --- |
| " | Roarr! Protect... I will... | " |
Tiger Lily Cookie (Korean: 정글전사 쿠키 jeong-geuljeonsa kuki) is an Epic Cookie available since launch. She is of the

Ranged class and her position is prioritized to the

Rear.
She is the daughter of Royal Berry Cookie and Jungleberry Cookie, the granddaughter of

Hollyberry Cookie and the sister of
Princess Cookie. She is estranged from all of her family due to being lost at birth.
Tiger Lily Cookie makes an appearance in Grandberry Market, appearing before Princess Cookie and nearly recognizing her before fleeing. She appears briefly at the end of Hollyberry Palace, hiding in a bush to watch Jungleberry Cookie. She also makes various cameo appearances in Stage backgrounds in both Episodes.
Game Description
"It is not known how Tiger Lily Cookie ended up in the jungle all by herself. Under the constant threat of encroaching enemies, her senses grew sharp. In contrast to her rough outward appearance, she is soft and delicate on the inside. Her only family is her trusty Butter Tiger, whom she cherishes more than anything in the world. Her great skill with the spear and excellent jumping abilities make her one tough Cookie to beat."
Soulstone Description
"This stone holds a piece of Tiger Lily Cookie's soul. It's vibrating with untamed wild instinct."
Tiger Lily Cookie's Soulstones can be acquired in World Exploration Dark Mode Stages 6-23 and 9-18.
Skill
Tiger Rider
Charges forward on the back of the Butter Tiger, causing damage to nearby enemies and stunning them. While the effect is active, the Cookie deals more damage with faster Regular Attacks.
Appearance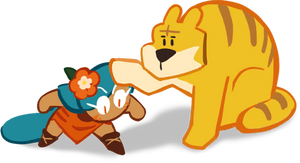 Tiger Lily Cookie has long teal hair that curls slightly at the end. Her bangs are parted in the middle, and she has wide eyes with thin orange-brown pupils and a single eyelash on each eye. She wears an orange hibiscus accessory on her head that is accompanied by two dark green leaves.
Tiger Lily Cookie wears a short, sleeveless orange dress with slits at the sides. Her dress has brown markings resembling tiger stripes. She wears brown boots with cream shoe laces and a darker brown trim on top.
Trivia
Princess Cookie is Tiger Lily Cookie's sister; neither Cookie is aware of this, as they were separated at a very young age. The two may also be twins, as they are shown being infants at the same point in time.

Before the Heart of Courage and Passion update, it was already widely speculated that Hollyberry Cookie is Princess Cookie and Tiger Lily Cookie's mother or grandmother due to concept art found in the Kingdom artbook.

Tiger Lily Cookie's name seems to imply that she is not a berry-flavored Cookie unlike most (if not all) other Hollyberrian Cookies. It is unclear whether she had a different name and flavor before the Dark Flour War or that Tiger Lily Cookie was always her name since birth.
According to her loading screen fun fact, "Tiger Lily Cookie tends to run around the jungle when she is well-fed and happy."
In previous Cookie Run installments, Tiger Lily Cookie was of the L-Grade, which was the equivalent of the modern day Legendary rarity. However, she was downshifted to the Epic rarity starting in Cookie Run: OvenBreak.
Tiger Lily Cookie's original Korean name (정글전사 쿠키 jeong-geuljeonsa kuki) translates to Jungle Warrior Cookie in English.
Tiger Lily Cookie's internal name is "cookie0040".
Tiger Lily Cookie's English voice actress, Stephanie Sheh, is best known for voicing Hinata Hyūga from Naruto, Yui Hirasawa from K-ON!, Mitsuha Miyamizu from Your Name, and Orihime Inoue from Bleach.
Tiger Lily Cookie's Japanese voice actress, Mariya Ise, is best known for voicing Killua Zoldyck from Hunter × Hunter (2011), Levy McGarden from Fairy Tail, Stocking from Panty and Stocking with Garterbelt, and Ray from The Promised Neverland.
---