| | | |
| --- | --- | --- |
| " | Cookies are too weak. BORING! | " |
Strawberry Crepe Cookie (Korean: 딸기크레페맛 쿠키, ttalgikurepe-mat kuki) is an Epic Cookie released in the second half of the Lost Kingdom update (version 1.3.501). They are of the

Defense class and their position is prioritized to the

Front. Their release completed the First Cookie Legion.
Strawberry Crepe Cookie initially appears in Castle in the Sky, stifling GingerBrave and company's progress. They later make a reappearance as a supporting role in Chapter 1 of Cookie Odyssey.
Game Description
"Sweet strawberry cream, crispy waffles, and chubby fresh strawberries—is there a cuter combination? Meet Strawberry Crepe Cookie with an unyielding sparkle of curiosity in their eyes. And this curiosity is a force to be reckoned with: Strawberry Crepe Cookie will stop at nothing to find an answer to every question! Having grown up with Wafflebots, this Cookie preferred tinkering with robotic parts to playing with toys. This little genius's cute waffle headset is a tiny engineering marvel on its own. But don't touch it! Or you risk witnessing a change from the cute Strawberry Crepe Cookie to the furious one."
Soulstone Description
"This stone holds a piece of Strawberry Crepe Cookie's soul. Miniscule whirs and ticks can be heard from within."
Strawberry Crepe Cookie's Soulstones can be acquired in World Exploration Dark Mode Stages 2-14 and 11-27.
Skill
Crepe Thrust
Uses the giant crepe arms to cause area damage. Reduces DMG received by two allies (targets Cookies first) with the lowest Max HP.

15 second base Cooldown
Single hit damage: 330.0% (+4.1-4.2% DMG per level)
+50.0% DMG Resist over 8.0 sec

Max Level »
World Exploration 9-30
Story Mode
Vanilla Castle Gates
Dark Mode
Ever-closed Gate
Power

33,538

Power

61,266

ATK

11,530

ATK

33,728

HP

616,800

HP

953,280

DEF

15,964

DEF

46,703
| Crepe Aura | Crepe Barrage | Crepe Punch | Crepe Thrust | Wafflebot! I Summon You! |
| --- | --- | --- | --- | --- |
| Creates an aura dealing damage over time to nearby enemies. | Summons Crepe Cannons to attack the Cookies. | Swings both waffle crepe fists, dealing damage. | Swings both giant crepe fists to cause a shock wave and reduces DMG received by two enemy units. | Summons Wafflebots and commences the attack protocol. |
Appearance
Strawberry Crepe Cookie has flamingo pink hair and turquoise eyes. They wear a pair of cone-like headphones displaying a frosted strawberry in the middle, along with a beige poncho trimmed with white fur in such a way that it resembles a crepe. Their pants are a saturated red with white shoes and they wear a white long sleeve enveloping their hands.
Story
TBA
Personality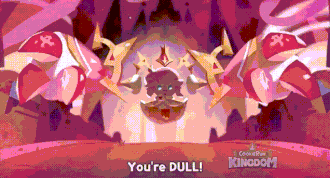 Despite this Cookie's cute appearance, Strawberry Crepe Cookie has a very demanding, self-centered personality, often commanding those around them to personally entertain them to stave off boredom. This Cookie also tends to act quite selfishly; after awakening from cryostasis after the Dark Flour War, they meet

Dark Enchantress Cookie and immediately jump to join her cause solely because she allows them to do whatever they please. Due to Strawberry Crepe Cookie's abilities and strength, they have a considerably arrogant and cold attitude much like their leader.
They have a highly analytical nature and often hypothesize aloud what would happen if others were to be put under intense strain for the sake of science. Strawberry Crepe Cookie easily could be considered a prodigy in robotics, as they are uncommonly brilliant in working with Wafflebots and seem to perhaps partly be one themself. They get furious if someone messes up with their Wafflebots. Despite their immense intellect, they still are a child and act like one, goading others into "playing" with them and crying foul play whenever they lose.
Trivia
As stated in their loading screen factoid, "Strawberry Crepe Cookie is in charge of fixing broken radios and robot vacuum cleaners."
Throughout the Castle in the Sky story, Strawberry Crepe Cookie's name wasn't shown as their real name until the cutscene before their boss fight in 9-30 Vanilla Castle Gates. Up until then, they were labeled as "???".
Strawberry Crepe Cookie's hands appear to clip through their poncho, as seen in several of their overworld animations.

In the description of their promotional video, he/him pronouns were used for Strawberry Crepe Cookie before quickly being revised to have any pronouns removed altogether. Following this, they have only been referred to with they/them.

This same error was made in the original version of the Coin Toss Match Bond story; once again, this was fixed a few days later.
Similarly, in a video posted to the official Cookie Run: Kingdom YouTube channel, Strawberry Crepe Cookie's voice actress accidentally referred to them with he/him pronouns. This was corrected by an edit in the video, using text that says "they/them" with an arrow pointing to Strawberry Crepe Cookie's mini icon.

Strawberry Crepe Cookie is noticeably similar to a Berry Bishop Wafflebot in appearance; they may have taken inspiration from the Berry Bishop when being created in-universe.

Because of this, Strawberry Crepe Cookie is possibly part Cookie and part Wafflebot.

Strawberry Crepe Cookie's quote "Cookies are too weak. Boring!" is notably similar to one of Pitaya Dragon Cookie's quotes from OvenBreak, "Cookies are ssso weak! How amusing!"
Strawberry Crepe Cookie's eyes appear to sparkle when they're happy.
Strawberry Crepe Cookie is the Cookie who had the most quotes changed with the English dub update, having 12 quotes changed. Madeleine Cookie comes in second place with 9 quotes changed.
Strawberry Crepe Cookie's internal name is "cookie0518".

This internal name could indicate that they were developed before Black Raisin Cookie (cookie0519) but were released after her.

Strawberry Crepe Cookie's English voice actress, Valeria Rodriguez, is best known for voicing Sucrose from Genshin Impact.
Strawberry Crepe Cookie's Japanese voice actress, Rina Hidaka, is best known for voicing Laura in Tropical Rouge! PreCure, Silica in Sword Art Online and Hardgore Alice in Magical Girl Raising Project.
Strawberry Crepe Cookie's Korean voice actress, Lee Ji-hyeon, is best known for voicing Sayu from Genshin Impact and Finn the Human in the Korean dub of Adventure Time.
Strawberry Crepe Cookie's Taiwanese voice actress, Zhang Yajing, is best known for voicing Monkey D. Luffy from One Piece, Yoh Asakura from Shaman King (2001) and Kaguya Shinomiya from Kaguya-sama: Love is War.
---