Sorbet Shark Cookie (Korean: 샤벳상어맛 쿠키 shabet-sangeo-mat kuki) is an Epic Cookie released alongside

Squid Ink Cookie in the first part of the Soda Island Outlaws update (version 1.8.002). They are of the

Ambush class and their position is prioritized to the

Middle.
They appear in the Tropical Soda Islands Story as part of Stink-Eye Tortuca's ship crew.
Game Description
"Once upon a time, there was a shark that lived in the deep blue sea. This curious swimmer often popped up to the surface to watch the pirates party on their ships. The shark yearned to join the Cookies for these parties, but they always ran away. Saddened, the shark disappeared into the sea for ages. Until suddenly... Sorbet Shark Cookie burst forth from the depths! This Cookie is, frankly, not the fastest runner, can only make bubbly noises instead of words, and gets soggy in the water just like everyone else. But even so, Sorbet Shark Cookie is always wearing a bright smile! After all, the world above the sea is vast and there's so many things to see!"
Soulstone Description
"This stone holds a piece of Sorbet Shark Cookie's soul. Is it gonna be adventuring the mighty waves, splashing and dashing? Or is it gonna be the pirate's life as a Cookie? Either way, the stone seems to be fizzing with excitement."
Sorbet Shark Cookie's Soulstones can be acquired in World Exploration Dark Mode Stages 1-13 and 12-27.
Skill
Shark Splash
The Cookie ambushes the frontmost enemies in shark form, dealing area damage. Deals additional damage to the two enemies with the highest Max HP within the skill's area of effect (targets Cookies first). For enemies that are Cookies, the additional attack will be dealt as true damage relative to the enemies' Max HP and cannot exceed 300,000. For other enemies, the additional damage will be regular damage.

17 second base Cooldown
Single hit DMG: 128.1%
DMG relative to Max HP (Cookies): 18.0 % (+0.2% per level)
Single Hit DMG (Others): 378.0% (+5.15% DMG per level)
Appearance
Sorbet Shark Cookie is a small Cookie with dull ruby dough. They have ovular navy blue eyes along with drooping, mauve eyelids.
They sport plain brown cavalier boots and simple black pants, along with a bell-sleeved white lace-up shirt, under a worn black vest. Some other accessories they don are the fuchsia bandanna tied around their waist, a black band on their left hand, a small golden chain on their right hip, and a large spyglass with golden accents. Their smooth "hair" is muted cyan with a dull blue ombré. Their attire resembles that of a pirate.
Personality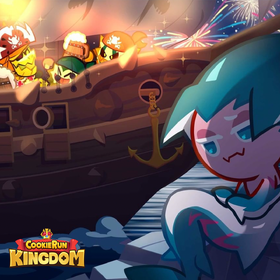 Back when they were a simple shark, Sorbet Shark Cookie admired life above the sea, and would often watch pirates on their ships, partying together and being merry. They had dreamt of befriending and joining the pirates on their endeavors, but because of their appearance, they would scare away anyone they approached. This made them quite the lonely individual, always being misunderstood due to their species. On top of becoming a pirate, they wished to become a Cookie and roam the land without anyone running from them in fear.
After becoming a Cookie and gaining their land legs, Sorbet Shark Cookie blossomed into an enthusiastic, cheery individual — one happy to help the pirates in performing their tasks and duties, whether or not they were aware of the pirates' true intentions. That being said, they appear somewhat naïve and oblivious, as they really only work with pirates due to the adventuring required.
Sorbet Shark Cookie is not a malicious individual by heart, and simply desires the company of others. They willingly let
Princess Cookie go from Stink-Eye Tortuca's imprisonment—even if it would put their own place in the pirate crew at risk—showing their sense of morals and judge of character. Sorbet Shark Cookie is also quite mischievous, however, and isn't a stranger to trouble as they ran away from Knight Cookie and his attempts to capture them.
Trivia
Sorbet Shark Cookie is unable to speak with words on land, instead having to use "bubbles", or gibberish strings of O's and zeroes. They regain the ability to use words when in water, in their shark form.
Sorbet Shark Cookie is known as "Rookie Cookie" by Stink-Eye Tortuca and his crew during their time with the group, as the pirates are unaware of Sorbet Shark Cookie's true shark form (or possibly unaware of their name at all).

During their time in the pirate crew, Sorbet Shark Cookie was often in charge of maintaining cleanliness and hygiene of the ship. Even a Durianeer acknowledged their skills in cleaning.

Unlike land Cookies, Sorbet Shark Cookie had spent most of their life in the sea as a native creature of it. Due to this, they are immune to becoming soggy in water unlike other Cookies.

Despite this, they still become soggy when defeated in Tropical Soda Islands so as to keep them balanced as a unit.
Their in-game description also states they can become soggy like any other Cookie, although in-game it is stated that they do not.

In previous versions of the game, she/her pronouns were used for Sorbet Shark Cookie on a loading screen. This was accidental, as confirmed by CM Alyssa, and was promptly fixed.
According to their loading screen trivia, "Even cleaning the kingdom is an adventure for Sorbet Shark Cookie."
Sorbet Shark Cookie was designed by Artist G.[2]
Like Sea Fairy Cookie, Sorbet Shark Cookie as a character takes much inspiration from The Little Mermaid.
Sorbet Shark Cookie's internal name is "cookie0160".
Sorbet Shark Cookie's Japanese voice actress, Kaori Ishihara, is known for voicing Aladdin from Magi: The Labyrinth of Magic.
Sorbet Shark Cookie's Korean voice actress, Lee Sae-byeok, is known for voicing Gorou from Genshin Impact.
References
---