| | | |
| --- | --- | --- |
| " | I bite hard and never let go. | " |
Rye Cookie (Korean: 호밀맛 쿠키, hoemil-mat kuki) is an Epic Cookie available since launch. She is of the

Ranged class and her position is prioritized to the

Rear.
She plays a leading role in Enemies for Life in which she befriends
Chili Pepper Cookie only to turn on her the moment she learns Chili Pepper Cookie is the wheat thief she has been chasing.
Game Description
"On the sunset of a hard day's work, the saloon door bangs open. "As usual, boss!" she yells. Yup, it's Rye Cookie again, so better get her order straight. She's a bounty hunter in these here parts, sporting a shiny badge and all that. The Wild Gun, they call'er. Maybe she's here on a job, or maybe she's just moseying through town. Last time, there been rumors of a brazen heist:
someone wiped the wheat silo clean as a whistle, not a single grain left. Wonder who coulda down that? Anyway, better to be careful 'round that one. It's safer to be nice and quiet 'round her, lest ya wanna feel the full barrel from her wholegrain-caliber."
Soulstone Description
Skill
Final Showdown
Shoot first if you don't wanna be shot! The Cookie aims both pistols at the enemy with the lowest max HP and shoots a round, dealing a great amount of damage several times. The Cookie's Attack Speed is increased greatly for the whole Showdown duration. (Skill cannot be applied to summoned foes.)
Appearance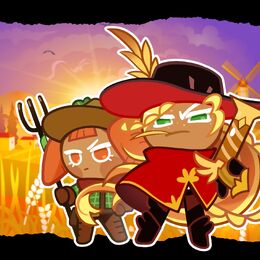 Rye Cookie is a relatively tall Cookie with mid-dark dough speckled with light freckles and olive-green eyes. She wears her golden hair parted down the middle and pulled back in a ponytail with certain strands braided.
Rye Cookie wears a dark wide-brimmed hat that has a star-shaped sheriff's badge clipped to it and a sprig of wheat poking out from behind. Under a bright red, golden-hemmed poncho, Rye Cookie wears a two-toned quarter-sleeve shirt with a black chest and white body, chestnut pants with black leather chaps and a golden belt buckle, and flared deep black gloves and boots.
Personality
Rye Cookie is a skilled bounty hunter with great confidence in her marksmanship, never backing away from a fight and often resorting to the use of her wholegrain-caliber guns in order to get what she wants. As such, she shows little to no respect to those she calls "softies" and only acknowledges those that have done something to earn it in her eyes. She seems to favor those with a similar attitude to her, calling
Chili Pepper Cookie the "rough rollin' type" and offering her some rye juice after fighting alongside her in the Enemies for Life story.
However, Rye Cookie is prone to holding strong grudges against those who have wronged her, and becomes hostile to Chili Pepper Cookie immediately after learning of her identity as the one who stole her treasure. This particular grievance is also referenced in three of Rye Cookie's kingdom quotes.
Trivia
According to her exclusive loading screen, "Rye Cookie loves to make an entrance, but... kicking doors open every time is a bit much!"
Rye Cookie was referred to as "Wheat Cookie" on some pre-release information, leading to some confusion about her real name before the release of Cookie Run: Kingdom.
Rye Cookie was most likely designed by Artist G.

On Twitter, most if not all confirmed Devsisters character designers retweet considerable amounts of content of characters that they have designed. While it has not been confirmed that Artist G created Rye Cookie, it is safe to assume this to be the case as they retweet content depicting Rye Cookie as often as they do content depicting other Cookies that they are confirmed to have created.

Rye Cookie's Guardian Angel 2022 quote is, "Don't hold back for nothin'!"
Rye Cookie's internal name is "cookie0515".
Rye Cookie's English voice actress, Amber Lee Connors, is best known for voicing Ms. Joke from My Hero Academia, Toy Chica from Five Nights at Freddy's, and Pieck Finger from Attack on Titan. She is also one of the voice directors of the English dub of the game.
Rye Cookie's Japanese voice actress, Ami Koshimizu, is best known for voicing Beidou from Genshin Impact, Ryūko Matoi from Kill la Kill, Yukiko Amagi from Persona 4, and Ibuki Mioda From Danganronpa 2: Goodbye Despair.
Rye Cookie's Korean voice actress, Kim Na-yul, is best known for voicing Lisanna Strauss from Fairy Tail and Akali from League of Legends.
---