| | | |
| --- | --- | --- |
| " | And where shall I go today? | " |
Princess Cookie (Korean: 공주맛 쿠키, gongju-mat kuki) is a Rare Cookie available since launch. She is of the

Charge class and her position is prioritized to the

Front.
She is the daughter of Royal Berry Cookie and Jungleberry Cookie, the granddaughter of

Hollyberry Cookie, and the estranged sister of
Tiger Lily Cookie.
Knight Cookie is her personal bodyguard and travel companion.
Princess Cookie makes an appearance as the protagonist of the Tropical Soda Islands Story with Knight Cookie trailing close behind. She also appears as a side-protagonist alongside GingerBrave and company in Grandberry Market and Hollyberry Palace.
Game Description
"Don't be fooled by her adorable smile and cute hairdo. She's not the graceful and regal princess you're looking for! Trouble follows the ever-curious Princess Cookie everywhere she goes, but somehow she manages to sort things out. After all, it's hard not to fall for Her Majesty's charm!"
Soulstone Description
"This stone holds a piece of Princess Cookie's soul. It shines with the spirit of adventure."
Princess Cookie's Soulstones can be acquired in World Exploration Dark Mode Stages 6-12 and 9-12.
Skill
Royal Swing
The world is full of adventure! Princess Cookie swings her scepter with a noble smile, causing area damage and decreasing the enemies' Defense.
Appearance
Princess Cookie has golden dough and short pink hair with two mirrored sets of three ringlets, each with peppermint-patterned ribbons shaped similarly to hearts. She has twinkling scarlet red eyes and wears a glittery layered pink dress with white, frilly ends, poufy sleeves, and a ruffled collar with a ruby red brooch. She carries a bejeweled scepter that flaunts a crown on the tip and dons frilly gloves with small rectangular cutouts on their backs. She wears no shoes.
Personality
Princess Cookie's behavior often contrasts strikingly to what one would normally expect of how a royal would behave. Princess Cookie is often shown to be a fun, excitable, and bubbly individual. A notable trait of hers is her desire for adventures, as she even went as far as leaving her comfortable home in the Hollyberry Kingdom in search of the excitement and adventure she has craved for so long. Her longing for adventure causes her to sometimes be reckless and impulsive, often acting directly without proper thoughts and causing troubles for herself and others. However, it should be noted that she's charming and resourceful to a point that she always manages to sort out her problems in the end.
Being a member of a royal family, Princess Cookie would sometimes boast of her status as princess, and would use it to order those around her to do her bidding, most notably her personal bodyguard,
Knight Cookie. Princess Cookie may also be somewhat spoiled and pampered, as she often expects Knight Cookie to protect her without absence. That being said, Princess Cookie more often uses her status as princess to help those around her in need, showing her selflessness and kind-heartedness. She is also willing to take risks to help others around her, even if it would cost her own wellbeing, as she insisted on helping the Watermelonians evacuate from danger in the Tropical Soda Islands Story.
Aliases
Knight Cookie's Nicknames
Her/Your Majesty
Your Highness
My Princess
Your Delicateness
Your Wiseness
Your Preciousness
The Princess
Her Nobleness
Your Justness
Your Watermelonness
Your Recklessness
Your Braveness
Your Resourcefullness
Your Curiousness
Trivia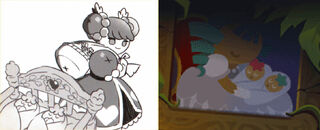 Princess Cookie is the only Charge type Rare Cookie.
Princess Cookie is Tiger Lily Cookie's sister. Neither Cookie is aware of this, as they were separated at a very young age. The two may also be twins, as they are both shown to have been infants at the same point in time.
According to the Tropical Soda Islands story, Princess Cookie does not like coconut milk nor jellybeans.
Princess Cookie is able to understand Mango Cookie's very fast explanations, whereas someone like Knight Cookie cannot.
Princess Cookie's flavor was never specified. But is assumed to be flavored after some type of berry based on the fact that her predecessors and residents of the Hollyberry Kingdom are flavored after berries.
Princess Cookie is the Cookie with the most number of aliases and nicknames, with most of them originating from Knight Cookie.
Princess Cookie doesn't wear shoes, which contrasts starkly with the rest of her regal, courtly appearance. This detail may be intended to convey her adventurous, independent nature despite the refined expectations of royalty placed upon her.

Depictions of Princess Cookie accompanied by Knight Cookie can be found in the Magic Music Box Castle and the Epic Puppet Show.
Princess Cookie is the first and only Cookie to have 2 Cookie Decors.
Princess Cookie's internal name is "cookie0008".
Princess Cookie's English voice actress, Eden Riegel, is best known for being the voice director for several Disney Channel shows. She also plays side characters such as Boscha from The Owl House and Kiara from The Lion Guard.
Princess Cookie's Japanese voice actress, Ari Ozawa, is best known for voicing Hina Hikawa from Bandori, Chiyo Sakura in Monthly Girls' Nozaki-kun, Xiangling from Genshin Impact and Papi in Monster Musume.
Princess Cookie's Korean voice actress, Kim Chae-ha, is best known for voicing Xinyan from Genshin Impact and K.O. in the Korean dub of OK K.O.! Let's Be Heroes.
---