Pomegranate Cookie (Korean: 석류맛 쿠키, seoglyu-mat kuki) is a major antagonist of Cookie Run: Kingdom and an Epic Cookie available since launch. She is of the
Support class and her position is prioritized to the

Middle.
She plays a major antagonist role in the World Exploration as well as having an antagonist role in the Dark Mode storyline.
Game Description
"Dressed in her scarlet ceremonial attire with glittering pomegranate drop decorations, Pomegranate Cookie was raised in the lands of powerful sorcerers as a young priestess to the Sacred Pomegranate Tree. But when she was foretold to follow a great darkness, she started to doubt her upbringing. When an unstoppable dark force overran her homeland, Pomegranate Cookie already knew she had met her destiny, and gladly joined her mysterious new Master..."
Soulstone Description
"This stone holds a piece of Pomegranate Cookie's soul. You can sense boundless devotion."
Pomegranate Cookie's Soulstones can be acquired in World Exploration Dark Mode Stages 6-19 and 11-21.
Skill
Pomegranate Magic
Even dark spells can become a formidable ally! The Cookie's crimson magic applies a buff restoring some HP over time for the whole squad and increases Attack Power.
Updates
March 25, 2022:

Default DEF Increase: +16.32%
Default HP Increase: +16.11%
Skill cooldown: -2 sec
HP Healing %: (at Skill Lv.60) 28.0% of ATK → 30.4% of ATK
ATK Boost Buff %: (at Skill Lv.60) 20% 30%
In order to utilize Pomegranate Cookie's skill more effectively, her battle position has been moved to Middle from Rear.
Personality
Pomegranate Cookie is one who shows little-to-no emotions in her speech. She nearly always holds a neutral expression, and when smiling, she covers half of her face. In her encounters with Cookies opposing of her views, Pomegranate Cookie talks in a condescending manner, belittling whoever she is faced with. Even in the face of danger she remains calm and adamant. She often looks down upon those who she deemed inferior or incompetent, referring to
Pastry Cookie as a "puny being", having a low opinion overall on
Licorice Cookie for his incompetence, and constantly chastising
Dark Choco Cookie for not being dedicated enough to

Dark Enchantress Cookie and mocking his somber past. Even when before those who are known for holding high power and status she remains unfazed and still regards them in a holier-than-thou tone.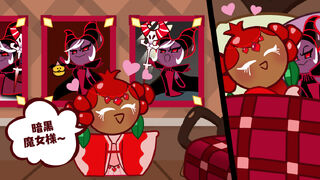 When it comes to Dark Enchantress Cookie and her vision for Earthbread, Pomegranate Cookie holds her in extremely high regard and showers her with praises, even betraying her initial religious sect and hometown and ultimately destroying both for her—in fact, it's often implied that Pomegranate Cookie has romantic feelings for Dark Enchantress Cookie. Being unconditionally faithful to her, Pomegranate Cookie often refers to Dark Enchantress Cookie as her master. She also acts as Dark Enchantress Cookie's advisor and is the one who often gives advice to Dark Enchantress Cookie, something that the latter commends her for. Pomegranate Cookie is aware of the creation of her master and the atrocities witnessed, and so further used it to support her admiration for the harbinger of chaos, referring to her as the first to surpass her creators and defy her pitiful fate.
Being extremely unsympathetic to others, she will happily take advantage of any sort of situation to further her side's ends. She will also, however, promise to deliver the cruelest ends to those who would reject the Darkness, even at the cost of her own-wellbeing.
Trivia
According to her unique loading screen, "Pomegranate Cookie believes that there is no such thing as true light, but only true darkness."
Pomegranate Cookie is based on a Mudang, a practitioner of Korean Shamanism; A mirror is one of three unspecified heavenly objects from the myths of Dan'gun, while bells are an instrument utilized to invite the will of the gods into the ritual ground.

Furthermore, the myths of Korean Shamanism includes a Holy Tree as a divine presence, which directly ties into the Sacred Pomegranate Tree as their center of worship.
She may also be based after a miko, a type of Japanese shrine maiden or priestess. The bells she carries could be kagura suzu, a tool closely associated with miko.

Pomegranate Cookie's mirror is never seen displaying any real reflections in-game.
Pomegranate Cookie makes very few expressions beyond a stoic frown, smiling only slightly in just one of her overworld animations. This is also seen in her cutscene sprite, but she covers her mouth with only her eyes giving a sign that she is happy.
In Greek mythology, the pomegranate and its seeds are known as "the fruit of the underworld", as seen in the myth of Hades and Persephone. Such an association might be the inspiration for Pomegranate Cookie's dark affiliations.

While it isn't explicitly confirmed that Pomegranate Cookie was designed by ieatcookieyeah, they once tweeted art of Milk Cookie, Custard Cookie III, and Pomegranate Cookie together. Because it is known that they are Milk Cookie's designer, and because of the apparent randomness of Pomegranate Cookie's inclusion in the picture, it can be assumed that they also designed Pomegranate Cookie.
Despite Pomegranate Cookie being an antagonist in World Exploration, she was never mentioned nor had her sprites seen in-game until Episode 5, Tainted Forest, where she is mentioned by Priestess Cookies A and B, and she is first seen in Stage 6-3, in Ancient Altar as a regular enemy, then re-appears in Episode 10, Timeless Kingdom, in Stages 10-23 and 10-30.
Among the 6 playable Cookies of Darkness, Pomegranate Cookie is the only one who doesn't smile in their victory animation. Instead, she just bows with a stoic frown.
Pomegranate Cookie's internal name is "cookie0126".
Pomegranate Cookie's English voice actress, Victoria Grace, is best known for voicing Yara from The Last of Us Part II and Lady Bone Demon from LEGO Monkie Kid.
Pomegranate Cookie's Japanese voice actress, Kaori Nazuka, is best known for voicing Nunnally Lamperouge from Code Geass: Lelouch of the Rebellion, Eureka from Eureka Seven and Draco Centauros from the Puyo Puyo series.
Pomegranate Cookie's Taiwanese voice actress, Feng Jiade, is best known for voicing Orihime Inoue from Bleach, Erza Scarlet from Fairy Tail, and Shinobu Kocho from Demon Slayer: Kimetsu no Yaiba.
Pomegrante Cookie's Thai voice actress, Nopphawan Hemabut, is best known for voicing Kyōko Hori from Horimiya and Marinette Dupain-Cheng from Miraculous: Tales of Ladybug & Cat Noir.
Pomegranate Cookie's French voice actress, Marie Diot, is best known for voicing Winry Rockbell from Fullmetal Alchemist, C.C. from Code Geass: Lelouch of the Rebellion, and Ciel Phantomhive from Black Butler.
References
---