| | | |
| --- | --- | --- |
| " | Pretty toppings, sweet and lovely! I'm Parfait Cookie, and don't you forget it! | " |
Parfait Cookie (Korean: 파르페맛 쿠키, parupe-mat kuki) is an Epic Cookie released in the second part of the Soda Island Outlaws update (version 1.9.002). She is of the
Support class and her position is prioritized to the

Rear.
She stars in her own dedicated Story Event, Parfait Cookie's Story, and her own song, Everything You Need.
Game Description
"In a time when there's never a day without a new hot celebrity idol, this singer-songwriter Cookie desperately tries to stick out with sweet toppings in vivid colors! Parfait Cookie's distinct style involves layers of chocolate and candy, topped with dripping syrup. Despite still being a rookie, this Cookie already has dozens of self-written songs. Parfait Cookie's melodies may be just as creative and unique as her colorful mixture of toppings, but her lyrics are always as pure and honest as vanilla ice cream. "It doesn't matter if the audition goes bad, if no one recognizes me, or even if my toppings melt in the summer rain! I keep playing my guitar and sing about the truth in my heart.""
Soulstone Description
"This stone holds a piece of Parfait Cookie's soul. If you listen closely to its extraordinary tune, you might be able to hear its genuine voice."
Parfait Cookie's Soulstones can be acquired in World Exploration Dark Mode Stage 12-30.
Skill
Paru-Paru-Parfait!★
Grabs the microphone and belts her heart out. Touched by the earnest and sincere song, all allies will recover some HP and receive a buff that increases DEF and resistance to debuffs.
Appearance
While in her stage getup, Parfait Cookie has white, puffy hair styled in a half-up half-down hairstyle with many toppings, along with pink syrup. The body of the two-stringed guitar she holds is carnation pink, with magenta tuning keys; it also looks to have a waffle-cone texture. She has vibrant blue eyes with big, bushy eyelashes. She wears a white cold-shouldered tube top with thin blue straps and oversized sleeves ending with a pink ombre and scallop pattern, a red skirt with a white waistband and brown detailing at the hem, and a pair of boots; one of them pink and the other black with pink laces.
Without her stage getup, she wears a black shirt with a motif on it and her hair lacks toppings and becomes messy. She wears a pair of brownish-black sneakers. Her eyes become brown. She also wears a set of pink glasses.
Trivia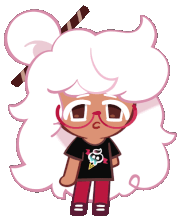 According to her loading screen trivia, "Parfait Cookie's dreams started with one single pink guitar."
Parfait Cookie is the singer of the Cookie Run: Kingdom song, Everything You Need, which was released alongside her. This was the first Cookie Run song to be sung not only in Korean, but also in English and Japanese. Thai and Chinese versions were released some days afterwards.
Parfait Cookie's real eye color is brown, and it's likely that she changes her eye color to blue by wearing colored contact lenses. This is supported by the fact that she wears glasses when in casual clothing, as the contacts could also be prescription contacts.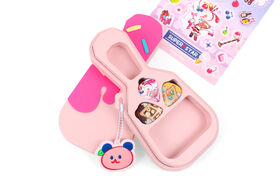 From September 1st to 15th, 2021, a Wadiz campaign (a crowdfunding project similar to a Kickstarter campaign) for a Cookie Run: Kingdom Parfait Berry Shusham (쿠키런: 킹덤 파르페 베리 슈스함), a storage box manufactured by JTBC Studios and based on Parfait Cookie, was active and available to be funded. The campaign far exceeded its required funding at nearly 1,700% of its goal.
Parfait Cookie's song, Everything You Need, can be heard in her gacha sequence and her Cookie Decor. The former plays the instrumental version of the song, nearing its end, while the latter plays her singing "La la la la la la la".
Parfait Cookie has a special loading screen depicting the scene shown in Everything You Need. This scene changes based on the device's local time, with the time of day in the image and the accompanying text being changed. There are 4 different versions of the loading screen, changing in the morning, afternoon, evening, and late night.
Parfait Cookie's internal name is "cookie0523".
Parfait Cookie's English voice actress, AmaLee, is best known for voicing Bibimi Kenranzaki from My Hero Academia, Elimine as she appears in Fire Emblem Heroes and Louise from Attack on Titan: The Final Season. She is also known to be a singer and a VTuber as "Monarch.|
Parfait Cookie`s Japanese voice actress, Aimi, is best known for voicing Kasumi Toyama from the Bandori series and Kyoko Yamate from the D4DJ series.
Parfait Cookie's Korean voice actress, Park Ji-yoon, is best known for voicing Raiden Shogun from Genshin Impact, as well as Twilight Sparkle in the Korean dub of My Little Pony: Friendship Is Magic and Anna in the Korean dub of Frozen.
---