| | | |
| --- | --- | --- |
| " | Fummoon in the sky, and in ma tummy! | " |
Moon Rabbit Cookie (Korean: 달토끼맛 쿠키, daltokki-mat kuki) is an Epic Cookie released among
Sonic Cookie and
Tails Cookie in the second part of the Heart of Courage and Passion update (version 2.0.102). She is of the

Defense class and her position is prioritized to the

Front.
Game Description
"Fresh rice harvested from the happy soils of the Cookie World was used for baking the happy Moon Rabbit Cookie. This Cookie's chubby cheeks are always filled with sweet rice cakes. And while some may think it's cute, her craving for more rice cakes might be one of the strongest forces of the Universe. That craving can even become so strong that she might turn into a giant Rice Cake Bunny, and—oh boy!—you'd better keep your distance because she is going to wreak SWEET HAVOC. A group of particularly brave Cookies once tried to keep the giant Rice Cake Bunny in check by grabbing each other's hands and building a circle around her. Ever since, the Cookies have kept a tradition of holding hands and going around in circles under the full moon."
Soulstone Description
"This stone holds a piece of Moon Rabbit Cookie's soul. If only Soulstones 'ere chewy wike wice cakes! Yum!"
Moon Rabbit Cookie's Soulstones can be acquired in World Exploration Dark Mode Stage 13-15.
Skill
Giant Rice Cake Bunny
After transforming into a Giant Rice Cake Bunny, Moon Rabbit Cookie jumps up and down, dealing DMG to all enemies. Enemies hit with this skill will be marked with a Healing Rice Cake, and when the marked enemies are defeated, the Healing Cake will restore the HP of all allies. The healing amount will depend on the target. While Moon Rabbit Cookie is using her skill, she will be more resistant to interrupting effects.

14 second base Cooldown
Single hit DMG: 127.9 % (+1.7% per level)
Self-healing: 160.0 % of ATK
Healing Cake: heals all allies if the target is defeated within 10.0 sec
Healing: 253.0% of ATK (if Healing Cake's target is a Cookie)
Healing: 24.2% of ATK (if Healing Cake's target is not a Cookie)
Appearance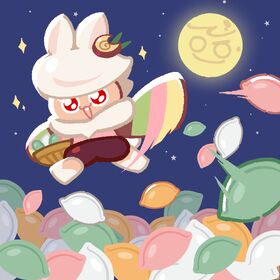 Moon Rabbit Cookie is a short Cookie with pale dough and scarlet eyes. Her hair is styled in a pixie cut with sweeping bangs that overlap her eyes and takes a porcelain color much like her dewlap and tail; all of this "fur" seems to be solid, globular masses similar to rice cakes rather than true hair. She also wears a swirled jujube barrette with two fronds against the bunny ears atop her head. Her lips takes an animal-like cat's mouth shape and sport a single round tooth at its center.
Moon Rabbit Cookie's shirt under her dewlap is peach with oversized sleeves striped broadly with lemon, peach, matcha, and chestnut colors. She wears puffed mahogany shorts and white knee socks with scalloped edges.
Moon Rabbit Cookie always holds a cream songpyeon (a type of rice cake) in her obscured left hand.
In her animal form, Moon Rabbit Cookie appears as a simple, rotund rabbit made of flabby rice cake batter. Her ears and barrette are much the same as her Cookie form, though her eyes are now simple crimson dots and she has only two slight paws. Her face altogether is quite small and is positioned high on her round body.
Trivia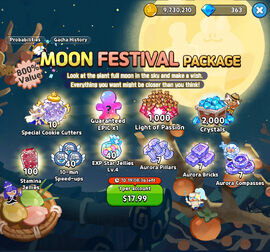 Moon Rabbit Cookie's inclusion in Kingdom was hinted at before her official reveal with the Moon Festival Package. This package uses Moon Rabbit Cookie's gacha art background, which features Moon Rabbit Cookie herself and her Pet, Moon Mortar (or simply a generic, inanimate mortar and pestle), overlain on the full moon.
As stated in her loading screen factoids, "Look at the bright full moon! Quick, make a wish! Looks like Moon Rabbit Cookie is wishing for more rice cakes!" and "To Moon Rabbit Cookie, there's no such thing as bad rice cakes."

Moon Rabbit Cookie's April Fool's Day sprite (titled in-game as "Traditionally Painted Moon Rabbit Cookie") is a reference to Gim Hongdo's A Dancing Boy (무동, mudong) (1780).
Moon Rabbit Cookie's internal name is "cookie0071".
Moon Rabbit Cookie's English voice actress, Cristina Pucelli, is best known for voicing Luan Loud from The Loud House.
Moon Rabbit Cookie's Japanese voice actress, Hina Kino, is best known for voicing Emu Otori from Project Sekai: Colorful Stage! feat. Hatsune Miku, Fuwa from Star Twinkle Precure, Hanako Honda from Asobi Asobare, and the Tims from Balan Wonderworld.
---