| | | |
| --- | --- | --- |
| " | What piece shall I play for you? | " |
Mint Choco Cookie (Korean: 민트초코 쿠키 mintu-choko kuki) is an Epic Cookie, available since release. He is of the
Support type and his position is prioritized to the Rear.
He plays a major role in the Mint Choco Cookie's Winter Concert event story.
Game Description
"His exquisite performance and dashing looks make him a favorite among the Cookies. His Mint Candy Violin gives off a sweet enchanting candy aroma while he plays. Though often called a genius, he refuses to let all this attention go to his head and never forgets his long years as a humble street performer."
Soulstone Description
"This stone holds a piece of Mint Choco Cookie's soul. It's humming with pure passion about music."
Mint Choco Cookie's Soulstones can be acquired in World Exploration Dark Mode Stages 4-28 & 8-27.
Skill
Battlefield Symphony
Restores some HP and increases Attack Speed of the squad with a sublime melody.
Updates
April 8, 2021:

Battlefield Symphony is now applied faster
Healing 132.1% → 158.5% (at skill Lv.50)
ATK SPD buff: 25.0% → 40.0%
Healing and ATK SPD buff usage timing has been shortened: 0.6 sec → 0.1 sec, 0.8 sec → 0.4 sec
Trivia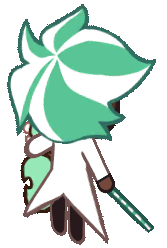 Mint Choco Cookie's internal name is "cookie0046".
According to his exclusive loading screen trivia, "If you live next to Mint Choco Cookie, you can hear his brilliant music over the wall every day."
Mint Choco Cookie's hair may have been modeled after Beethoven's own emblematic hairstyle.
Mint Choco Cookie's design in Kingdom is missing a small design that can be seen in one of his back sprites in Cookie Run: OvenBreak.
Mint Choco Cookie has an alternate dimension counterpart by the name of Toothpaste Cookie, a member of Twizzly Gummy Cookie's crew.
Mint Choco Cookie is one of the few (if not only) Cookies to have their front-facing idle animation modified in a subsequent update; at launch, this animation had his arms awkwardly hanging at his sides while his current animation shows him holding his violin to his shoulder.
Mint Choco Cookie's English voice actor, Zeno Robinson , is best known for voicing Hawks from My Hero Academia, Hunter from The Owl House, Taiga Kagami from Kuroko's Basketball and Shuji Hanma from Tokyo Revengers.
Mint Choco Cookie's Japanese voice actor, Nobuhiko Okamoto, is best known for voicing Katsuki Bakugo from My Hero Academia, Yuu Nishinoya from Haikyū!! and Rin Okumura from Blue Exorcist.
Mint Choco Cookie's Korean voice actor, Ryu Seung-gon, is best known for voicing Thoma from Genshin Impact.

Interestingly, his Korean voice actor and Park Shin-hee, the voice actress of Cocoa Cookie, are married in real-life.
---