| | | |
| --- | --- | --- |
| " | Time to spice things up! | " |
Mala Sauce Cookie (Korean: 마라맛 쿠키, mahra-mat kuki) is an Epic Cookie released alongside
Twizzly Gummy Cookie in the Interdimensional Super Mayhem update (version 2.2002). She is of the

Charge class and her position is prioritized to the

Front.
She plays a major supporting role in the Super Mayhem event story as the chieftain of the Mala Tribe residing at the Dragon's Valley.
Game Description
"The blistering heat of the Dragon's Valley seems inhospitable to all forms of life. That is... until you get to know the spicy Cookies of the Mala Tribe. The entire tribe is unyieldingly spicy, but none come close to Mala Sauce Cookie with her mind-numbing, fiery taste! Her strength knows no bounds: a simple tap on a boulder shatter it to pieces, a full swing of her Morning Star Anise triggers a massive whirlwind. Due to her fierce determination to protect the tribe, she was the only cookie who succeeded in the dreaded Trial of the Dragon. It's no wonder that she is destined to be the future leader! Despite the twists and turns with her first adventure outside of the village, if she can captivate the spicy denizens of the Mala Tribe, the outside world doesn't stand a chance!"
Soulstone Description
"This stone holds a piece of Mala Sauce Cookie's soul. Have you seen a stone as hot and spicy as this?!"
Mala Sauce Cookie's Soulstones can be acquired in World Exploration Dark Mode Stage 13-18.
Skill
Spicy Mala Strike
Strikes the ground with her mace, rupturing it and dealing area damage. Spicy Mala Sauce lava will erupt from the crack and apply the Burn debuff dealing periodic damage to the enemies. In addition, this skill increases CRIT% of the two allies with the highest CRIT% stat.
Appearance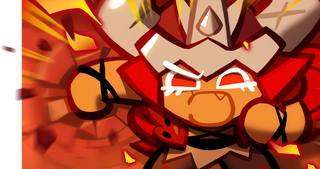 Mala Sauce Cookie is a short Cookie with moderately dark, red-undertoned dough. She has crimson hair that is cut bluntly and tied into low pigtails, somewhat resembling sausages. She has burning red eyes and a scar on her lip. She wears a horned helmet, a frayed brown pelt worn as a shirt, and a fluffy burgundy vest resembling furs.
Trivia
---