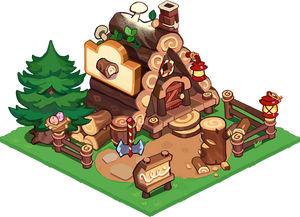 | | | |
| --- | --- | --- |
| " | Cookie lumberjacks chop roll cake trees and work them into all sorts of items. Not to mention that the fragrance of freshly cut lumber has therapeutic effects! | " |
The Lumberjack's Lodge is the building for harvesting Roll Cake Wood. The first lodge is created as part of the starter tutorial, the second becomes available from the Build list for buildings upon reaching Cookie Castle level 3. The building starts with 4 queue slots. Wood is stored in stacks of 50, and can be sold for 2 coins each, or 100 coins for a full stack.
It is the very first production building placed in every Kingdom and its materials are used in the most recipes for other Goods. The amount of wood required for various goods increases very fast and it is advisable to never stop producing more so long as you are also manufacturing Goods at the same time.

The first few Roll Cake Wood logs are obtained through cleaning up the map though this is not a sustainable method of obtaining wood.
List of Production options
| Picture | Name | Building level required | Amount produced | Coin Cost | Time Cost  | Time/Unit  |
| --- | --- | --- | --- | --- | --- | --- |
| | Roll Cake Wood | 1 | 3 | 30 |  30 sec |  10 sec |
| | Roll Cake Wood Bundle | 2 | 9 | 90 |  6 min |  40 sec |
| | Roll Cake Wood Pile | 3 | 20 | 200 |  1 hr 30 min |  4 min 30 sec |
Building Upgrading Requirements
Building level
Castle Level
Materials
Coins
Time
Build
0 (unbuilt)

2

4,000

 10 sec

1 → 2
4

10

2

6,100

 5 min

2 → 3
7

6

1

51,100

 7 hr
Trivia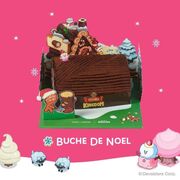 The Buche De Noel cake from Tous Les Jours features a picture of Lumberjack's Lodge behind the cake and GingerBrave cutting down a log