| | | |
| --- | --- | --- |
| " | What's your name, cutie pie? | " |
Kumiho Cookie (Korean: 구미호맛 쿠키, goomihoe-mat kuki) is an Epic Cookie released in the Dark Mode update (version 1.1). She is of the

Charge class and her position is prioritized to the

Front.
Her Cookie Decor is the Spirit Fox Swing located in the Lunar New Year set.
Game Description
"A fox-shaped marshmallow wished to become a Cookie so much that it mastered a spell to shapeshift into a Cookie by surviving only on flour and butter for 999 days. As a result, she can now disguise herself as a seductive and attractive Cookie. Anyone who catches even a glimpse of her will instantly fall in love. Perhaps she's dazzling them with her nine tails."
Soulstone Description
"This stone holds a piece of Kumiho Cookie's soul. Under its pristine shiny surface lies the passionate desire to become a real Cookie."
Kumiho Cookie's Soulstones can be acquired in World Exploration Dark Mode Stages 9-15 and 11-24.
Skill
Somersault
Transforms into a Cookie and causes area damage and charming nearby enemies, while charming them and reducing their DEF. Afterward, fires a powerful Fox Spirit Flame up to 5 enemies near Kumiho Cookie and turns back into marshmallow fox.
Updates
December 9, 2021

Transformation duration: 8 sec → 12 sec
Kumiho Cookie now fires Fox Spirit Flames "up to 5 nearby enemies".
Kumiho Cookie now fires Fox Spirit Flames more frequently at a larger target range.
DMG bonus during transformation: (at skill Lv. 60) 230.98% → 251.2%
Somersault Skill DMG: (at skill Lv. 60) 298.7% → 429.5%
Additional 20% DEF reduction for 8 sec to successfully charmed enemies.
Appearance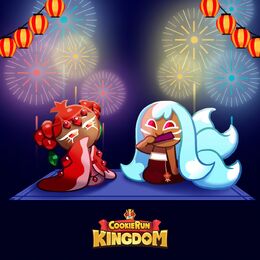 Kumiho Cookie is an average-height Cookie with red-undertoned, medium-dark dough. She possesses foxlike, piercing red eyes halved upwards in a cunning expression. Her scarlet lips form a coy smile and are framed by two white fox whiskers on each side.
Her hair is icy cyan and situated in two long, framing twintails tipped with snowy white. Her bangs are minimal and shortly drape upon her forehead in two rounded masses. Occasionally, Kumiho Cookie is seen with one to nine fox tails trailing from underneath her skirt that appear identical to her long hair.
Kumiho Cookie's outfit consists of a hanbok chima that begins at its top with a darker sanguine shade that fades downwards to a lighter cardinal red. The chima is situated with a white heori band about her chest and an orange and cream floral norigae hanging from it. Under her skirt, she wears white stockings with no distinguishable shoes. In her left hand she totes a solid fuchsia folding hand fan.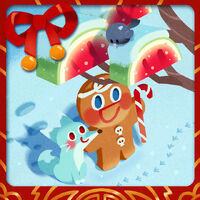 In her animal form, Kumiho Cookie is a simple fox with a pelt of the same colors as her Cookie form's hair. Much like her tail(s), her pointed ears and paws are tipped with white with her underside to the tip of her snout taking this same white. Kumiho Cookie's fox form's eyes and mouth are the same red shades as her Cookie form and are also framed by whiskers, though she now also has a brown button nose.
Trivia
Kumiho Cookie is based on her namesake, the kumiho of Korean legends.

Kumiho Cookie's line "What a yummy little Bear Jelly..." references her ability in OvenBreak in which she seduces Bear Jellies and eats them immediately afterwards. This itself references the kumiho's tendency to seduce men and have them drop their guard so it can attack them and devour their heart and/or liver.

Her exclusive loading screen states "If you surprise Kumiho Cookie, you might be able to catch her in her fox form."
Kumiho Cookie was the first Cookie to have a dedicated teaser trailer.

Despite not being a Cookie available at launch, she has appeared in early Kingdom promotional art depicting all launch Cookies.
In past Cookie Run installments, Kumiho Cookie's name was Ninetales Cookie.

Interestingly, this specific spelling mirrors that of the Pokémon Ninetales rather than the phrase "nine tails".

Kumiho Cookie's internal name is "cookie0024".
Kumiho Cookie's English voice actress, Kimlinh Tran, is best known for voicing Ms. Fortune from Skullgirls and Koko from Pokémon the Movie: Secrets of the Jungle.
Kumiho Cookie's Japanese voice actress, Ayane Sakura, is best known for voicing Yae Miko from Genshin Impact, Ochaco Uraraka from My Hero Academia, Yae Sakura from Honkai Impact 3rd, and Ran Miitake in BanG Dream!.

Coincidentally, Kumiho Cookie, Yae Miko and Yae Sakura are fox-related characters.
---