| | | |
| --- | --- | --- |
| " | Blow the horn! Hollyberry Cookie has arrived! | " |
Hollyberry Cookie (Korean: 홀리베리 쿠키, holli-beri kuki) is one of the five Ancient Heroes of Cookie Run: Kingdom. She is the second to be released, being made playable alongside
Raspberry Cookie in the first part of the Heart of Courage and Passion update (version 2.0.102). She is of the

Defense type and her position is prioritized to the

Front. Like the other Ancient Cookies, she is briefly playable in the Prologue.
She is the founder of the Hollyberry Kingdom and appears prominently in Episodes 11 & 12 of World Exploration. She is also Royal Berry Cookie's mother, Jungleberry Cookie's mother-in-law, and
Princess Cookie &
Tiger Lily Cookie's grandmother. Her current position in the Hollyberry Kingdom is that of Queen Mother.
Game Description
"What else could result in such an overwhelming passion if not the reddest hollyberries, ripened under the hottest summer sunlight? Hollyberry Cookie believes that every friendship, like every victory, should be triumphant. After all, there is nothing in the world as hard as trust! Not even the all-enduring Hollyberry Shield with which she swore to protect her beloved ones. It is said that Hollyberry Cookie leading a charge onto the battlefield is the most inspiring view. A view that inspires to repay with trust to those who put trust in you."
Soulstone Description
"This stone holds a piece of Hollyberry Cookie's soul. Holding this stone, you can almost hear the horns of victory."
Hollyberry Cookie's Soulstones can be acquired in the Kingdom Arena

Medal Shop.
Skill
Oath on the Shield
Let out a war cry of fury! Hollyberry Cookie charges forward and becomes a shield to all of her Cookie allies, absorbing a portion of the damage they take, excluding continuous DMG and indirect DMG. While Hollyberry Cookie is using her skill, she will briefly become resistant to interrupting effects.

18 sec base Cooldown
Single hit DMG: 185.5% (+2.53% DMG per level)
DMG Focus: 20.0% of DMG of allies for 9.0 sec

Max Level »
Updates
September 17, 2021:

Defense increased by 30%, and HP increased by 25%.
DMG Focus duration of Oath on the Shield increased from 6 sec to 9 sec.
Personality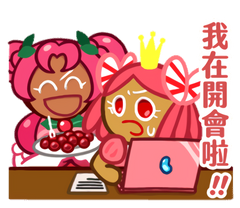 Much like her
granddaughter, Hollyberry Cookie has a love for adventure and excitement, often venturing into the wilds on her own. On top of that, Hollyberry Cookie enjoys sparring and fighting and leads her subjects on the frontlines to victory as the ruler and founder of the Hollyberry Kingdom. Being a fierce and fiery fighter, Hollyberry Cookie excels in the battlefield, and even emerges victorious in her spars with the Red Dragon, who acknowledges her as the only worthy opponent for them. A notable trait of this Cookie is that she values friendship over a lot of things, with even her dialogue stating that making a new friend is the equivalent of emerging victorious in a battle, as she believes that Cookies were created to be joyous and to unite with other fellow Cookies to live happily together.
Similarly to her close friend
Pure Vanilla Cookie, Hollyberry Cookie deeply cares for her kingdom and the citizens within in, vowing to protect them. Her defeat in the Dark Flour War and her failure to protect her kingdom and subjects caused Hollyberry Cookie to withdraw from her kingdom and abdicate her position as ruler out of guilt, even abandoning her mighty shield, feeling that she no longer deserved the love and trust of her subjects.
Aside from being a resourceful and charismatic leader, Hollyberry Cookie has proven herself to be a loving mother and grandmother. She raised her son, Royal Berry Cookie, to be a humble and resourceful leader as the next heir to the Hollyberry Kingdom. But while she loved her son dearly, she also worried about his future, and how he'd accomplish his duties as ruler of the Hollyberry Kingdom. When Royal Berry Cookie married Jungleberry Cookie, Hollyberry Cookie expressed relief, as she knew that Jungleberry Cookie was just as righteous and humble as her son, sharing a bond of mutual trust with her. Hollyberry also loves her
granddaughters dearly, being the Cookie to bless them both as soon as they were born. When Hollyberry Cookie and Princess Cookie were finally reunited, they grew to share a mutual respect for one another.
Trivia
Before the Heart of Courage and Passion update, it was already widely speculated that Hollyberry Cookie is Princess Cookie and Tiger Lily Cookie's mother or grandmother due to concept art found in the Kingdom artbook.
Hollyberry Cookie is the only Ancient Hero to have their illustration completely redrawn upon release so far.
According to Hollyberry Cookie's exclusive loading screen trivia, "Hollyberry Cookie's berry juice record is no less than 12 glasses!"
In Hollyberry Cookie's Cookie view screen, the unique background features a small side table similar to that seen in Pure Vanilla Cookie's background. While Pure Vanilla Cookie's table holds a vase of white lilies, Hollyberry Cookie's table displays a framed picture of the twin princesses, Tiger Lily Cookie and Princess Cookie, as infants. This draws reference to her family and those close to her being one of the things she treasures most.
Hollyberry Cookie is refered to by Wildberry Cookie as "The Queen Mother", a queen mother being the former queen and mother to the current monarch.
Hollyberry Cookie is known to have confronted, fought, and defeated the Pitaya Dragon.
Hollyberry Cookie is the first Ancient Cookie to receive a Costume.
Hollyberry Cookie's Guardian Angel 2022 quote is "I'll always be there to protect you!"
Hollyberry Cookie's internal name is "cookie0510".
Hollyberry Cookie's English voice actress, Elizabeth Maxwell, is best known for voicing Rosaria from Genshin Impact, Sae Niijima from Persona 5, Urbosa and Riju from The Legend of Zelda: Breath of the Wild, and Caulifla from Dragon Ball Super.
Hollyberry Cookie's Japanese voice actress, Toa Yukinari, is best known for voicing Casca from Berserk and NK Cell from Cells at Work.
Hollyberry Cookie's Korean voice actress, Yi Sae-ah, is best known for voicing Lumine from Genshin Impact and Creati/Momo Yaoyorozu from My Hero Academia.
---