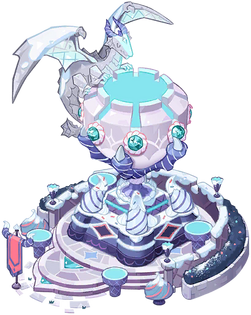 Join Forces with Guildmates to defeat the dreadful giant Red Velvet Dragon in Guild Battle.
The daily number of attempts is limited to three. Once a Guild Battle's level has been defeated, the following one will unlock.
Every player who participated in the Guild Battle will receive Flames of Unity, Coins and Heroic Torches after the Dragon is defeated. After a level is cleared, each member of the guild will receive Heroic Torches, Guild Trophies, and Coins. The higher the dragon's level, the more rewards you can receive!
After the end of the Guild Battle season comes the result calculation day. Once the results are calculated, the Guild will receive rewards according to its position in the Guild Ranking. Every guild member will also receive a reward of corresponding to their contribution in Guild Battle. The higher you rank on the contribution board, the more diamonds and coins you get! You can't play in Guild Battle during the result calculation day.
Once a player deals damage to the dragon, they earn Contribution Points. The higher the dragon's level and the more damage caused, the more points will be received. The greater number of participants, the more Trophies will be received for that level.
If a player quits a Guild Battle without dealing any damage, the number of attempts will not be deducted. However, the number will deduct if even just 1 point of damage is inflicted.

Guild Battle Reward
When the dragon is defeated, all Guild members can receive the final reward. The higher the difficulty level, the greater the reward. Also, the greater the number of participants, the more Trophies the Guild will get. The player who deals the final blow to the dragon will receive an additional reward.

Guild Trophies
Guild Trophies are special rewards given to a guild for participation in Guild Battle. The number of these trophies decides the Guild's position in the Guild Ranking. Guild Trophies are reset with each season.
The first Seasons, Awakened Dragon Seasons 1, 2, and 3, lasted for three weeks. Seasons end and Trophies reset now once every four weeks.
The highest level a guild can reach for Guild Battles is 540

Red Velvet Dragon
Skills

Red Dragon's Scales (passive)
Red Velvet Wrath
Red Velvet Dragon reflects damage back to the attacker.
Red Velvet Dragon summons two Red Velvet Wraiths.
Shred
Dragon Breath
Attacks and stuns the Cookies with its giant claws.
Expels dragon fire at the Cookies in front.
Ravage
Red Velvet Meteorites
Attacks and stuns the Cookies with its sharp fangs.
Red Velvet Meteorites fall from the sky, stunning all the Cookies.
Gallery