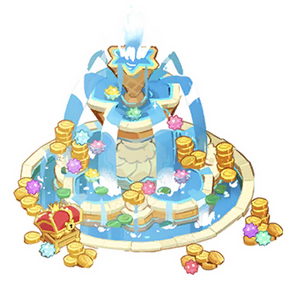 The Fountain of Abundance is a staple of a player's kingdom, generating rewards over time. Rewards are only generated for a specified amount of time depending on its Level, so make sure to log in and check the Fountain of Abundance often! Rewards include Coins, Star Jellies, Crystals, Speed-Ups, Topping Pieces, Stamina Jellies, Skill Powders, and Materials for Lv.1 production.
Fountain of Abundance Levels
Upgrading the Fountain of Abundance allows it to generate more rewards and be able to hold a larger amount of rewards for increasingly longer periods of time. The Fountain's Level cannot exceed that of its Cookie Castle and can only be upgraded once the Castle is; thus, the Fountain's current maximum Level is 15.
Level
Materials
Coin Cost
Build Time
Production Rates
0 → 1
N/A
N/A
N/A

x50/1 min

x1 per 5 min

1 → 2

3

3,000

 30 sec

x55/1 min

x2 per 5 min

2 → 3

4

5,000

 5 min

x60/1 min

x3 per 5 min

3 → 4

5

7,000

 10 min

x65/1 min

x4 per 5 min

4 → 5

5

10,000

 20 min

x70/1 min

x5 per 5 min

5 → 6

5

20,000

 30 min

x75/1 min

x6 per 5 min

6 → 7

5

1

30,000

 40 min

x80/1 min

x7 per 5 min

7 → 8

5

3

50,000

 1 hr

x85/1 min

x8 per 5 min

8 → 9

3

5

70,000

 1 hr 30 min

x90/1 min

x10 per 5 min

9 → 10

5

5

5

100,000

 2 hr

x95/1 min

x12 per 5 min

10 → 11

5

10

10

200,000

 2 hr 30 min

x100/1 min

x14 per 5 min

11 → 12

5

20

20

300,000

 4 hr

x105/1 min

x16 per 5 min

12 → 13

30

30

30

600,000

 4 hr

x110/1 min

x19 per 5 min

13 → 14

60

60

60

1,000,000

 ? min

x?/1 min

x22 per 5 min

14 → 15

?

?

?

?

 ? min

x?/1 min

x25 per 5 min