| | | |
| --- | --- | --- |
| " | Yes, I'm here. What now? | " |
Espresso Cookie (Korean: 에스프레소맛 쿠키, esupureso-mat kuki) is an Epic Cookie available since launch. He is of the

Magic class and his position is prioritized to the

Middle.
Espresso Cookie is a pioneer and proponent of Coffee Magic, researching and experimenting through many sleepless nights to constantly refine his craft. He occasionally teaches classes on Coffee Magic at the Parfaedia Institute.
Espresso Cookie serves as a major character in the Couldn't Care Less... And Yet questline, co-starring alongside
Madeleine Cookie,
Snow Sugar Cookie, and
Alchemist Cookie. He appears in the Parfaedia Institute Event as the professor of the Advanced Course, Theorems of Coffee Magic, and plays a supporting role in The Expedition To Protect Earthbread.
Game Description
"Precise temperature, precise quantity of coffee beans, precise roasting time! Everything must be in a precise—impeccably precise—order for the plan to work. Always busy, always on the go—this is the lifestyle of Espresso Cookie. Despite being frequently mistaken for a black mage—yes, sometimes things burn, and smoke—Espresso Cookie can't afford to waste a second on meaningless explanations. Night after night, this pioneer of magic works on perfecting his grind and brew. "Isn't that too much coffee?" one might wonder. Well, at least there's always the delightful coffee fragrance in the air!"
Soulstone Description
"This stone holds a piece of Espresso Cookie's soul. Highly sought after among coffee connoisseurs."
Espresso Cookie's Soulstones can be acquired in World Exploration Dark Mode Stages 8-15 and 12-18.
Skill
Grinding
Precise and even grinding is key for magically delicious coffee! A giant whirlwind inflicts serial area damage to enemies and pulls them to its center. The final burst of damage interrupts skills.

15 second base Cooldown
80.0% DMG over 7 hits (+0.9-1% DMG per level)
100.0% DMG with last hit (+1.23-1.25% DMG per level)
*The multihits of the skill are Total DMG, and not for every hit.
Personality
Espresso Cookie is a serious, smug, and intellectual perfectionist, and does things with absolute precision. He speaks in a formal and calm accent and is often brief with his words, to the point of rudeness. His facial expression generally defaults to a composed and confident smile, but there are instances where he doesn't bother hiding his displeasure or exhaustion (such as when faced with a preventable failure or
Madeleine Cookie's foolhardiness). Despite this, he is capable of being polite in his conversations with other Cookies, and takes interest in their actions, such as when he asked to read a report on
Alchemist Cookie's reagents.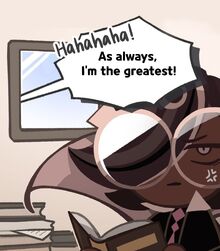 Due to his status as a well-respected mage, he has great pride in his expertise and Coffee Magic, though he also remains open to outside suggestions as long as they are constructive. In his work, Espresso Cookie is highly meticulous and observant, refusing to allow any margin of error. According to
Latte Cookie, he hates co-research projects, which may extend to all tasks requiring cooperation; in the quest for the Soul Jam, he chose to separate from Madeleine Cookie instead of working together with him. However, he is still capable of teaming up if the situation demands; him carrying Madeleine Cookie back to the Kingdom after both were injured during the Couldn't Care Less... And Yet questline shows his true colors as someone honorable and good at heart despite his personal distaste for his teammate.
As a perfectionist, Espresso Cookie expects much both from others and himself. His workaholic attitude, combined with the fact he is quite literally made of coffee, usually keeps him awake for days, which frequently results in eventual fatigue. He's dedicated to perfecting Coffee Magic to the point of self-neglect, and intentionally drives students away from his class at the Parfaedia Institute so that he can spend more time on his research. Some students apply to his classes regardless, prompting Espresso Cookie to demand that they prove their dedication to the study before he will even acknowledge them. If he accepts them, he shows appreciation for their genuine efforts, commending their skills without hesitation.
Espresso Cookie harbors strong contempt towards Light Magic, which fuels part of his initial annoyance towards Madeleine Cookie. The origin of this contempt is currently unknown.
Espresso Cookie is of the same race as the Coffee Tribe of the Dark Cacao Kingdom, but hails from the same culture-rich Republic as Madeleine Cookie, the Crème Republic. Currently, it is unclear how he or his predecessors traveled there from the main continent. While Espresso Cookie's physical attributes and ingredients render him incredibly similar to the Coffee people, his lifestyle, activities, fashion, and so on almost seem to directly contrast against what is known to be typical of that culture. One possibility is that he was born in the Tribe's village and left at some point, or that he was born to other Coffee Tribe members who left the Tribe's village to live in the Republic.
Trivia
In Episode 3 of The Expedition to Protect Earthbread, Eclair Cookie refers to Espresso Cookie as "Professor" and states that Espresso Cookie's office was right next to his.
Latte Cookie and Espresso Cookie once worked together as research partners. Latte Cookie regards him as an old friend, and her Skill is also visibly similar to Espresso Cookie's Skill.

However, Espresso Cookie still visibly despises the combining of milk with coffee, likening it to Light Magic.

According to Almond Cookie's Case Files, Espresso Cookie dyes his hair.
According to Espresso Cookie's loading screen, trivia, "Coffee Magic is difficult to master but can be an instrument of great power in skilled hands."

A previous loading screen blurb referencing him states "If you get to know Espresso Cookie better, you'll learn that he is very particular about his outfits!". This trivia has since been patched out of the game for reasons unknown.

In the game's first splash screen and some official artworks, Espresso Cookie is seen floating above the ground, showing his ability to use his magic to float above the ground. There are also observations that his in-game sprite slightly hovers whenever he activates his Grinding skill.
In Espresso Cookie's gacha background, it features a sign that seems to say 'DESPRESSO'. This might be a reference to the infamous phrase that combines depression with coffee addiction, "depresso espresso".
The fact that Espresso Cookie never sleeps is a reference to how coffee keeps one awake. This occurs when the caffeine in the coffee takes the place of the sleep-promoting receptors in the brain.
Espresso Cookie appears often in promotional material for Cookie Run: Kingdom, appearing in the Angel-in-us collaboration as well as other miscellaneous official artworks.
Starting August 19th, 2021, in anticipation for the release of Kingdom's Japanese dub, hashflag images depicting emoji versions of Espresso Cookie along with GingerBrave, Strawberry Cookie, Madeleine Cookie, and Purple Yam Cookie were added to Twitter alongside hashtags of their names. For Espresso Cookie, his hashflag would appear alongside these hashtags (not case sensitive):

Espresso Cookie was the first Cookie to have a dedicated Featured Cookie Gacha.
Espresso Cookie's internal name is "cookie0513".
Espresso Cookie's English voice actor, Zach Aguilar, is best known for voicing Aether from Genshin Impact, Tanjiro Kamado from Demon Slayer: Kimetsu no Yaiba, Genos from One-Punch Man, Koichi Hirose from JoJo's Bizarre Adventure: Golden Wind and male Byleth from Fire Emblem: Three Houses. He is also a YouTuber under the name "Airzach".

Zach Aguilar also provides the voice for the Institute Student.

Espresso Cookie's Japanese voice actor, Wataru Komada, is best known for voicing Motoi from NEO: The World Ends With You, Jade Leech from Disney Twisted-Wonderland, and Julio Lightman from Triangle Strategy.
Espresso Cookie's Korean voice actor, Park Yo-han, is best known for voicing Red Riot/Eijiro Kirishima from My Hero Academia.
Espresso Cookie's Taiwanese voice actor, Fu Shuang, is best known for voicing Usopp from One Piece, Hisoka Morrow from Hunter x Hunter (1999), and Patrick Star from SpongeBob SquarePants.
---