Currencies are resources used in various parts of the game in exchange for various goods and actions. The main two currencies are Coins and Crystals, the basic and premium currencies respectively. Coins and Crystals can both be bought directly through microtransactions. Other currencies may be obtainable through microtransactions through buying specialty packages in the Shop.
Various game modes often have their own currency, used to either access levels or buy rewards. Typically, only Coins and Crystals are constantly on the screen during play while other currencies are only visible in either the Storage or their respective game modes.
Currencies
Coins
Coins are the basic currency of the game and have by far the most options to get them. Coins are rewarded through multitudes of methods, such as playing through World Exploration Stages, Train Station loot, Quest rewards, and more. The most effective way to obtain large quantities of Coins quickly is through granting Wishes at the Tree of Wishes. They're also the favorite snack of a certain cephalopod!
Coins are used for upgrading buildings (including the Cookie Castle and the Fountain of Abundance), producing raw Materials, buying Decorations, upgrading Toppings and Skills, and promoting Cookies. Having a sizeable stack of Coins ready is always worthwhile, as the amount of Coins used for various game elements rises exponentially the further a Kingdom is developed.
Crystals
Crystals are the premium currency of the game. They can be bought with real money in various quantities, as well as being a part of most Shop packages. Crystals are also obtained from clearing World Exploration Stages for the first time, collecting rewards from the Fountain of Abundance, and unlocking daily rewards at the Tree of Wishes. Most game modes and reward tracks will grant a limited number of Crystals (including daily gifts from friends), and the best way to get Crystals without indulging in microtransactions is through clearing World Exploration Stages, completing Events, and engaging in competitive modes.
Crystals are the only true currency that can be used to draw Cookies from the standard Cookie Gacha.
Crystals are gained sparsely, and can be used in generally every part of the game for conveniences, such skipping waiting times and buying missing Goods. These shortcuts can be tempting, though it is better to be careful with how and where Crystals are spent. Saving up to draw Cookies, construct Landmarks, and buy extra building production slots will typically improve a player's late-game experience.
Medals of Victory
Medals of Victory are used to exchange for rewards in the Medal Shop. They are obtained through winning in Kingdom Arena or Super Mayhem battles, as well as through a daily reward based on the player's current Arena Tier.
Radiant Shards
Radiant Shards are used to unlock Disciple Slots in the Hall of Ancient Heroes and to upgrade the Statue of Heroic Radiance. They are earned from the Fountain of Abundance, the daily rewards from the Tree of Wishes, and Balloon Expeditions that venture beyond Ep. 3. They can also be purchased from both the Seaside Market and the Medal Shop, and may be rewarded by events.
Mileage Points
Mileage Points are earned either from drawing Cookies from the Cookie Gacha or the Featured Gacha, or from drawing Treasures from the Treasure Gacha. Each draw will give a certain amount of points which can be redeemed at the Mileage Shop for various rare items, primarily Soulstones for Epic Cookies. Drawing duplicates of maxed-out Cookies or Treasures instead grants additional Mileage Points, with the amount of Points received depending on the Rarity of the Cookie or Treasure.
Mileage Gain for Duplicates:
Rainbow Pearls
Rainbow Pearls are the Rainbow Shell Gallery's exclusive tender. They are generally obtained through Touc's Trade Harbor, with the amount of Pearls gained raising with the value and amount of goods traded. Some can rarely be found in limited-time Events.
Rainbow Pearls are also the only currency that can be used to purchase the Dream of the Tower, Sea Fairy Cookie's Cookie Decor.
Chaos Cake Pieces
Chaos Cake Pieces are earned only from clearing trays in the Tower of Sweet Chaos. They can only be spent on Decorations from the St. Pastry Order theme, most notably including the Ominous Cake Tower landmark and its level-ups.
Rainbow Crystals
Similar to Mileage Points, Rainbow Crystals are earned from drawing duplicate Costumes from the Costume Gacha. They can be spent to directly purchase an Epic Costume of the player's choice from the Rainbow Crystal Shop, which is also located in the Costume Gacha.
Rainbow Crystal Gain for Duplicates:
Energy
Stamina Jellies
Stamina Jellies are regained over time (5 minutes/1 Jelly) and are primarily used for World Exploration stages and Balloon Dock Expeditions. Additional Stamina Jellies can be most reliably earned through the Fountain of Abundance, and later through shipments from the Tropical Soda Islands. Most Events and reward tracks will also grant bonus Stamina Jellies via a one-time reward. They can be purchased in bundles of 30 three times each day—the first refill costing 90 Crystals, the second costing 180 Crystals, and the third costing 270 Crystals for a total of 540 Crystals—though given their general abundance, this can be an inefficient expenditure.
Arena Tickets
Arena Tickets are used to participate in battles in the Kingdom Arena, and refill at a rate of 1 every hour. They are only consumed in battles entered through the Kingdom Arena's hub, and not in Friendly Battles initiated through a user's profile. Additional Tickets can be obtained through the Mileage Shop, the Rainbow Shell Gallery, and certain Events, especially recurring ones centered around the Kingdom Arena. Refills can also be purchased with Crystals 5 times a day, filling to the player's maximum Ticket capacity.
Searing Keys
Searing Keys are introduced once a player unlocks the Tower of Sweet Chaos. They are required in order to access Trays, and are consumed upon successfully clearing a Tray. Keys recharge at the rate of 1 Key every hour, and players may hold up to 72 Keys at a time by default. Additional Searing Keys cannot typically be earned through any other means outside of the Shop—not even with Crystals—and they are rarely rewarded by limited-time Events.
Mayhem Tickets
Mayhem Tickets only appear while the Super Mayhem game mode is active. Similar to Arena Tickets, they are required to participate in battles against other player teams, and can be stored up to a maximum of 8, recharging at a rate of 1 every 90 minutes. Additional Tickets can be acquired from certain milestone rewards tied to Super Mayhem, although refills can also be purchased with Crystals up to 3 times a day.
Alliance Tickets
Alliance Tickets are used in Cookie Alliance, and are required to begin a Cookie Alliance campaign. They recharge at a rate of 1 Ticket every 12 hours; players can hold up to 6 Alliance Tickets at a time, which can be upgraded to a maximum of 8 Tickets at the Sugar Gnome Laboratory. Players can only purchase a refill of Alliance Tickets once per day, granting 2 Tickets at the cost of 400 Crystals.
Gacha
Cookie Cutters
Special Cookie Cutters and Magic Cookie Cutters are used to draw from Cookie Gacha pools in place of spending Crystals. Special Cookie Cutters are used in the standard Cookie Gacha, while Magic Cookie Cutters are used on the Featured Cookie Gacha, where newer Cookies have higher draw probabilities. Cookie Cutters can be acquired in a number of ways, including shops such as the Medal Shop, as well as through events.
Treasure Tickets
Treasure Tickets are used to draw from the Treasure Gacha. They are generally considered less valuable than Cookie Cutters, and can be acquired more easily for less. Treasure Tickets can be acquired through most of the same means as Cookie Cutters, including many shops and Events.
Rainbow Cubes
Rainbow Cubes are acquired from limited-time events and the Mileage Shop. They are used to draw from the Costume Gacha in order to obtain Costumes.
Heroic Torches
Heroic Torches are used to pull from the Guild Gacha. They are primarly earned by fighting in Guild Battles and defeating the Guild Boss, as well as by checking into the Guild daily. Aside from appearing from certain chests in the Tower of Sweet Chaos, they cannot be found anywhere else.
Aurora Materials (Rarities)
Aurora Materials, or Rarities, are gained from daily rewards from the Tree of Wishes, Train Station loot, the Seaside Market, the Vanilla Sanatorium Landmark, events, and more. They are used primarily for building upgrades, landmark upgrades, territory expansion, and Sugar Gnome Laboratory technologies.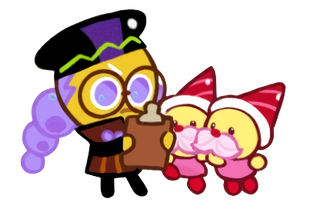 There are currently three Aurora Materials: the Aurora Brick, Aurora Compass and Aurora Pillar. Despite the random variance in how much of each Rarity a player may earn, none is more important than the other, and having an equal amount of each Rarity is generally preferable. Keep an eye open for Aurora Material exchanges at the Seaside Market to help even out their distribution in your Storage.
Sea Rarities
Sea Rarities (Caramel Spyglasses and Map Fragments) are gained through various methods related to the Tropical Soda Islands, such as completing (and re-completing) Island Stages, trading in Touc's Trade Harbor, opening chests found in uncovered Tropical Soda Island spaces, and buying them from the Seaside Market and Rainbow Shell Gallery.
Both Sea Rarities are required in equal amounts to explore cloudy spaces in the Tropical Soda Islands, with the number of Rarities required increasing proportionally based on how far the spaces are from the first Soda Island.
Topping Pieces
Topping Pieces are used to upgrade Toppings, with the amount of Pieces needed increasing as a Topping's Level and Rarity rises. However, they alone cannot be used to upgrade Toppings—Coins are required for upgrades alongside them. Topping Pieces are earned primarily through Balloon Dock expeditions and breaking down existing Toppings. They can also be earned through certain Quests, the Medal Shop, and some Events; clearing stages in World Exploration also grants a Topping Piece.