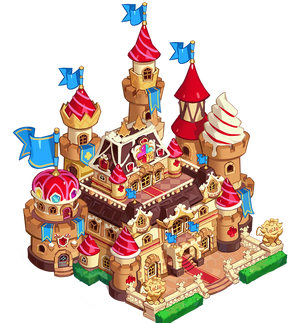 The Cookie Castle shows a kingdom's prosperity. It also serves as a guide through the game; upgrading the Cookie Castle allows further progression.
Cookie Castle Levels
Upgrading the Cookie Castle unlocks Materials and Goods Buildings with the prestige of the Buildings unlocked raising as do the Castle's Level. Currently, the highest achievable Cookie Castle Level is 15.
Before being able to upgrade the Cookie Castle to its next Level, the player must accomplish certain prerequisite Missions. When these Missions are fulfilled, they will then need to gather certain resources, Coins, and time to upgrade it. Below are the requirements for upgrading the Cookie Castle.
Castle Designs
Upon reaching Castle Level 13, the player unlocks Castle Designs, which apply cosmetic changes to the Cookie Castle.
The Castle's default appearance will always be the Cookie Castle Design, with the Glorious Vanilla Castle Design unlocking for purchase at Castle Level 13 for 1,000,000 Coins and the Vibrant Hollyberry Castle Design unlocking upon clearing Hollyberry Palace (12-30) for 2,000,000 Coins.
Castle Designs affect the appearance of the Castle itself along with its front yard surrounding the Fountain of Abundance, outer wall, and gate. Castle Designs offer no additional benefits to the player other than simply warping the Castle's appearance for visual effect.
How to upgrade your Cookie Castle:
Go to your kingdom and click/tap on the giant castle. When upgrading, you will also need specific materials that will be difficult to acquire the higher level you are.