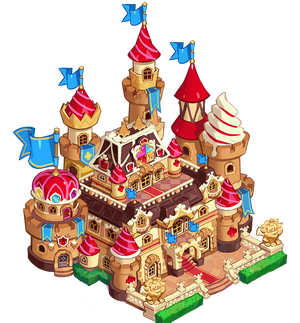 The Cookie Castle shows a kingdom's prosperity. It also serves as a guide through the game; upgrading the Cookie Castle allows further progression. Tap on the castle in your kingdom to upgrade and change its appearance.
Cookie Castle Levels
Upgrading the Cookie Castle unlocks Materials and Goods Buildings with the prestige of the Buildings unlocked raising as do the Castle's Level. Currently, the highest achievable Cookie Castle Level is 15.
Before being able to upgrade the Cookie Castle to its next Level, the player must accomplish certain prerequisite Missions. When these Missions are fulfilled, they will then need to gather certain resources, Coins, and time to upgrade it. Below are the requirements for upgrading the Cookie Castle.
Castle Designs
Upon reaching Castle Level 13, the player unlocks Castle Designs, which apply cosmetic changes to the Cookie Castle. The Castle's default appearance will always be the Cookie Castle Design. Castle Designs affect the appearance of the Castle itself along with its front yard surrounding the Fountain of Abundance, outer wall, spires, and gate. They offer no additional benefits to the player other than warping the Castle's appearance for visual effect.
| Design | Unlock Requirement | Cost | Description |
| --- | --- | --- | --- |
| Cookie Castle | Default | - | A symbol of this kingdom's might, this castle lives once again thanks to the Cookies! |
| Glorious Vanilla Castle | Castle level 13 | 2,000,000 | This magnificent castle decorated with colorful stained candy glass reminds you of the pinnacle of the Vanilla Kingdom. May its blue banners always fly proudly in the wind! |
| Vibrant Hollyberry Castle | Clear 12-30 | 2,000,000 | A vibrant castle with a dome covered in ornate fruit and flower patterns. Its majestic halls are always full of guests attending the royal ball, bustling with eloquent dances and exciting music. If you're lucky, you might be able to get a glance of its gallant Royal Guard parades. |
| Solemn Dark Cacao Castle | Clear Dark Mode 13-10 | 3,500,000 | There it stands, on the very edge of the Giant Icing Ridge, rising tall above the endless birch forests. Only the yells of sparring warriors and the clang of crossing blades ever break the silence under the 100% cacao roof tiles of the solemn Black Citadel. |