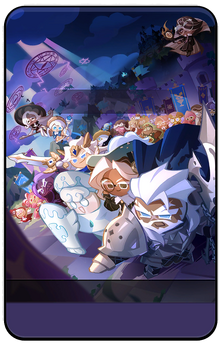 Cookie Alliance is a seasonal mode where players prepare up to 5 Cookie teams and battle numerous waves of enemies. It is unlocked when the player clears 10-31 in World Exploration and requires Alliance Tickets to participate, recharging at a rate of 1 ticket every 12 hours.
Overview
Preparation
Players prepare up to 5 teams of Cookies. Once prepared, the player may then spend an Alliance Ticket and engage in a Cookie Alliance campaign. An Alliance Ticket takes 12 hours to recharge, and a player may buy 2 of them once a day with 400 Crystals.
It is recommended to have a blessing by the Beacon of Valor active before beginning a campaign, as it cannot be used mid-campaign. Cookies in a campaign cannot change or remove their Toppings, but can still be upgraded or promoted, or have their current Toppings upgraded.
Battle
Cookies battle in auto-mode. A player can swap from their active team to any of their other 4 teams, incurring a 20 second team swap cooldown.
Cookies will run and face wave after wave of enemies, with every 4th wave containing a boss (such as a powered-up Cookie, or the Red Velvet Dragon). Enemy waves are set for each season, featuring unique enemy compositions with their own buffs. Every 4 waves also has a unique debuff affecting the player's Cookies, such as reducing DEF, disabling HP Shields or extending all cooldowns.
A player can quit mid-campaign at any time, which pauses their current progress, and can resume the campaign where they left off. Campaigns end once all five Cookie teams have been defeated, or if a player defeats the final wave of enemies. Players can also press "Restart" on the main Cookie Alliance screen to end their current campaign and receive rewards based on their progress.
Effects
In each campaign, the following effects will be applied:
Increased Max HP for each Cookie
Decreased amount of Healing received by each Cookie
Decreased amount of HP added with HP Shields
Decreased DMG inflicted for allied summoned creatures
Decreased summon duration for allied summoned creatures
Enemies more resistant to debuffs
Rewards
At the end of the campaign, the player is offered to choose between two chests containing a Relic, Coins, Time Jumpers, and other random rewards. The rarity of the Relic will be rolled based on the last boss wave cleared. They may spend an Alliance Ticket to also open the second chest.
Score
Score is tallied based off of the number of non-summoned monsters defeated, with bonus points rewarded for clearing waves without losing a Cookie team. Minor bonus points are also rewarded based on the time spent clearing the wave.
Beacon of Valor
The Beacon of Valor can be lit for 7 days for 500,000 Coins, or for 28 days for 2,000,000 Coins. Once lit, the Beacon provides the following benefits:
Raise the levels of all Cookies in Cookie teams to Lvl. 60
Extend the initial Blast Mode based on the number of Lvl. 60 Cookies on a player's teams (up to a maximum of 14 seconds for at least 20 Lv. 60 Cookies.)
Season Rewards
Guilds
Rank
Rewards
Rank
Rewards
< 1%

5,000

1,500

< 10%

2,500

160,000

< 2%

4,000

900

< 30%

2,200

150,000

< 3%

3,500

600

< 50%

2,000

140,000

< 5%

3,200

300

< 75%

1,500

120,000

< 7%

3,000

200,000

< 100%

1,200

100,000
Players
Rank
Requirement
Reward
Rank
Requirement
Reward
Top 1%

10,000

1,500

400,000 pts

4,500

400

Top 10%

9,000

1,300

350,000 pts

4,000

400

Top 50%

8,500

1,200

300,000 pts

3,500

400

Top 80%

8,000

1,100

250,000 pts

3,200

300

1,000,000 pts

7,500

1,000

220,000 pts

3,000

300

900,000 pts

7,000

800

190,000 pts

2,800

300

850,000 pts

6,500

800

60,000 pts

2,600

800,000 pts

6,200

800

30,000 pts

2,400

650,000 pts

6,000

600

17,000 pts

2,200

600,000 pts

5,500

600

0 pts

2,000

550,000 pts

5,000

600