Chili Pepper Cookie (Korean: 칠리맛 쿠키, chilli-mat kuki) is a major deuteragonist of Cookie Run: Kingdom and an Epic Cookie available since launch. She is of the

Ambush class and her position is prioritized to the

Middle.
She is guaranteed to be obtained through a free, fixed-result Cookie Cutter at the beginning of the game.
Chili Pepper Cookie is a major supporting character in the World Exploration storyline, appearing as a constant World Exploration story party member. She also appears in Enemies for Life, in which she meets and is inevitably pursued by
Rye Cookie.
Game Description
"Chili Pepper Cookie's dough contained much more chili pepper than allowed by the law. This is probably why she doesn't care much about rules at all! Chili Pepper Cookie is a notorious treasure hunter. She never misses a chance to snatch everything valuable she can get her hands on, leaving only chaos and havoc behind. The Cookies know better than to cross her path, and so should you. Good news: you can easily identify this path by a trail of fiery red chili sauce..."
Soulstone Description
"This stone holds a piece of Chili Pepper Cookie's soul. It's surprisingly easy to let it slip through your fingers."
Chili Pepper Cookie's Soulstones can be acquired in World Exploration Dark Mode Stages 3-25 and 8-18.
Skill
Cheap Shot
Sneaks behind the enemy, causing area damage to the rearmost line with 4 strikes. The final strike always deals critical damage.

12 second base Cooldown
Damage dealt: 44.5% (+0.6% DMG per level)
Targets hit during the skill are also Immobilized.
Appearance
Chili Pepper Cookie had long crimson-red hair with occasional beige specks pulled back in a high ponytail with a spiked band. She also has ruby eyes with a pronounced X-shaped scar above her right eye. She sports a muted red bandanna with crossbones printed on the front; and, most notably, she wears a black figure-hugging sleeveless jumpsuit that has several leather straps with belt clasps running around her legs and hips. When in battle, Chili Pepper Cookie holds curved daggers that have red blades with a singular notch and forest green hilts in such a way that resembles a bird's eye chili pepper.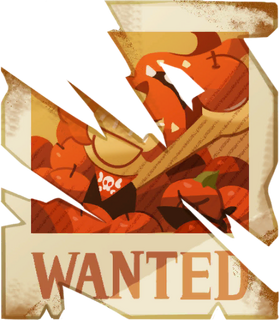 Personality
Due to her main ingredient being an abnormally large amount of hot peppers, Chili Pepper Cookie has quite the unapologetically brazen nature. Being a renowned petty thief, she's not above slyly tricking others solely to gain treasures and wealth. She's highly concerned with her notoriety as a criminal and is constantly working to stay on top as the best bandit of them all. Even after joining GingerBrave and company in their adventure, her primary goal of gaining as much loot as possible remains.
Trivia
Due to her permanent placement in GingerBrave & Friends, Chili Pepper Cookie is often mistakenly referred to as a Common Cookie in outsourced official media.
Her loading screen trivia states "Mind your belongings at all times while traveling with Chili Pepper Cookie."
Chili Pepper Cookie has a chance of saying "My brother is a famous killjoy." as one of her overworld quotes. Her brother, though not currently featured in Kingdom, is Red Pepper Cookie, who's an Epic Cookie in Cookie Run: OvenBreak.
According to Strawberry Crepe Cookie's analysis, Chili Pepper Cookie is comprised of "1% spiciness and 99% ignorance".
Chili Pepper Cookie's daggers closely resemble the Ambush class icon.
Chili Pepper Cookie's internal name is "cookie0121".
Chili Pepper Cookie's English voice actress, Kimberly Brooks, is best known for voicing Jasper from Steven Universe and Princess Allura from Voltron: Legendary Defender.
Chili Pepper Cookie's Japanese voice actress, Mikako Komatsu, is best known for voicing Seishiro Tsumugi in Nisekoi, Cinnabar in Land of the Lustrous, and Madoka Kaguya in Star Twinkle PreCure.
Chili Pepper Cookie's Korean voice actress, Yun Eun-seo, is best known for voicing Zeri from League of Legends and Chloe in the Korean dub of Pokémon Journeys: The Series.
Chili Pepper Cookie's Taiwanese voice actress, Fu Qihui, is best known for voicing Shana from Shakugan no Shana, Haruhi Suzumiya from the anime of the same name, Mitsuha Miyamizu from the TV airing of Your Name, and Happy from Fairy Tail. She is also the voice director of the Taiwanese dub of the game.
---