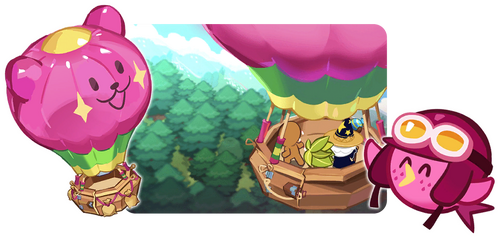 The Balloon Dock is a section in the player's Kingdom, unlocked when the Cookie Castle is upgraded to level 2. At the Dock, three to five Cookies can be sent on a Bear Jelly Balloon Expedition to Story Episode regions that have been fully cleared. Once the expedition is over, the Cookies will return to the Kingdom bearing sweet rewards.
During the expedition, Cookies assigned to the team are unavailable in the Kingdom. This means they can not help out in the Kingdom's production activities. However, they can still be used in combat modes.
For each expedition, there is a chance that the Cookies will achieve Super Success, granting additional rewards. The stronger the Cookies are (factoring in their Level, Promotion Grade, and Rarity), the higher the chances are for a Super Success. There is little harm in simply using the Auto-select feature to determine what combination of Vookies will yield the best Super Success odds.
Balloon Expeditions have a set amount of time for completion per Story region, which can shortened through the Croissant Zeppelin Landmark and a upgrade in Kingdom Technologies. Expedition wait time can also be skipped using Crystals or Speed-up tokens.
Expedition Rewards
Base Rewards: Kingdom EXP, Cookie EXP, Coins
Random Rewards: Toppings - Common, Rare, Epic; Time Jumpers (starting at Episode 8)
Super Success Rewards: Topping upgrade pieces, double Coins & EXP
Region
Cookies
Duration 
Basic Rewards
Super Success
Random Rewards
Land of Little Big Dreams

3

 15 min

240

25

170

2

Dragon Hill

4

 30 min

508

49

196

3

Pilgrim's Path

5

 50 min

850

73

256

4

Hero's Gate

5

 2 hr

1,249

96

368

6

Tainted Forest

5

 4 hr

1,690

118

545

8

Ancient Altar

5

 5 hr

2,128

139

810

10

Forgotten Academy

5

 6 hr

2,578

160

1,224

12

Hall of Enlightenment

5

 8 hr

3,158

180

1,883

15

Castle in the Sky

5

 9 hr

3,602

532

2,604

17

Timeless Kingdom

5

 10 hr

4,030

611

3,283

19

Grandberry Market

5

 11 hr

4,469

688

3,639

21

Hollyberry Palace

5

 12 hr

4,905

774

4,224

23
Trivia