| | | |
| --- | --- | --- |
| " | What do you call a fish with no eye? FSH! Haha! | " |
Avocado Cookie (Korean: 아보카도맛 쿠키, abo-kado-mat kuki) is a Rare Cookie available since launch. She is of the

Defense type and her position is prioritized to the

Front.
Avocado Cookie makes an appearance in The Dock Story as the builder of the titular dock.
Game Description
"Gather some avocados (the more, the better!) ripened under the hot sun (the more ripe, the better!), then mash, mash, MASH! That's how you can make a healthy and nutritious Avocado Cookie! But you know what terribly lacked nutrients growing up? Her sense of humor! And you will soon know why. Avocado Cookie is a famous master smith. She spends days and nights at the smithy making this and that. It is said that Avocado Cookie can create just about anything! Except for a decent joke, ahem."
Soulstone Description
"This stone holds a piece of Avocado Cookie's soul. Holding it in your hands, you feel how funny jokes begin popping up in your head."
Avocado Cookie's Soulstones can be acquired in World Exploration Dark Mode Stages 3-9, 7-6, and 10-6.
Skill
Battle Smithing
Strikes the ground with her hammer several times, dealing area damage. The clear sound of ringing metal raises the party's Morale, increasing Attack Power of the Cookie with the highest Attack Power.
Personality
Avocado Cookie is a very hearty, down-to-earth Cookie who always is in the mood for a belly laugh. Constantly cracking clever puns and "dad jokes", she highly prioritizes the simple effectiveness of humor in making a person's day. Unfortunately, while Avocado Cookie tells jokes to lighten the mood of herself and those around her, her comedy is often regarded as low-quality due to its simplicity and tends to make people sigh rather than chuckle. Regardless, she is dogged in her efforts to brighten the days of others with her simple jokes and wide, goofy grin.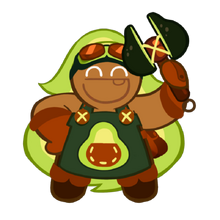 Avocado Cookie, a renowned, masterful blacksmith, is markedly hardworking and diligent in her craft and all else she does, highly valuing quality over quantity and always sincerely putting in her best effort. She's known to greatly enjoy her work as well and takes great pride in what she does, always encouraging others to reach out to her if in need of any top-notch tools. As a result of her work, Avocado Cookie is notably tough and robust though unrefined, often pounding her fists together or slamming her hammer briskly without warning before erupting into hearty guffaws.
A humble, helpful personality such as Avocado Cookie's often can be described as motherly or sisterly, as she's very earthy and pragmatic in her attitude and speech. Avocado Cookie is constantly open to helping others however she can, whether it be through her high-grade weapons or her low-brow humor to boost her peers' morale and chances at success.
Trivia
Avocado Cookie has an alternate dimension counterpart by the name of Half-Avocado Cookie, a member of Twizzly Gummy Cookie's crew.
Avocado Cookie's "My hammer? No, you can't touch this!" line is a reference to U Can't Touch This by MC Hammer.

Avocado Cookie's April Fools 2022 sprite is a reference to a meme stating "Hey you! One lemon has as much Vitamin C in it as one lemon!" in Japanese. In-game, Avocado Cookie's April Fools dialogue is "Wowza! Did you know? An avocado has just as many puns in it as one avocado!"

The avocado pictured in this sprite is Avocado Cookie's combi pet in Cookie Run: OvenBreak, Avocatapult.

Avocado Cookie's Guardian Angel 2022 quote is "Let's keep at it!"
Avocado Cookie's internal name is "cookie0113".
Avocado Cookie's original Epic status from OvenBreak was revised upon her addition to Kingdom, being changed to Rare.
Avocado Cookie's English voice actress, Courtenay Taylor, is best known for voicing K.O. and T.K.O. from OK K.O.! Let's Be Heroes and Ada Wong from the Resident Evil series.
Avocado Cookie's Japanese voice actress, Saiga Mitsuki, is best known for voicing Tsukasa from the .hack series as well as Maria Ross from Fullmetal Alchemist and Garnet from Steven Universe.
Avocado Cookie's Korean voice actress, Lee Seon-joo, is best known for voicing Naruto Uzumaki from the Naruto series, Izumi Curtis from Fullmetal Alchemist, and Ana from Overwatch.
Avocado Cookie's Taiwanese voice actress, Wang Huayi, is best known for voicing Terry from Soul, Cinderella from the titular franchise, and Princess Jasmine from Aladdin.
---