This page is about upgrading Cookies. For all Cookies in Cookie Run: Kingdom, see Cookies for all Cookie characters or List of Cookies for all playable Cookies. For a more in-depth look at Cookie statistics, see Cookie Stats.
Cookies are a highly intelligent species of being that are nearly indistinguishable from humans, aside from their makeup and appearance. Their diversity, motivations, and capabilities are very similar to those of humans in a modern fantasy setting, seeking community and fulfillment despite their original purpose being much less complex.
The original Cookies were made by Witches in their Ovens as simple desserts, but many gained sentience and purpose when Life Powder somehow became mixed into their dough. Now, many Cookies are created directly from existing Cookies as their offspring.

Leveling Up and Star Jellies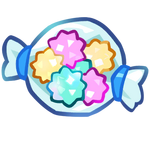 Leveling up is the most effective method of increasing a Cookie's Power Level, improving their overall effectiveness in combat gameplay.
For a Cookie to Level Up, they must gain Experience Points. While most modes will grant a small amount of these, the most efficient method of leveling up a Cookie is through feeding them EXP Star Jellies. While Cookie Houses are the most reliable source of these for a player, almost every feature and game mode will reward them - the Fountain of Abundance, World Exploration, the Tower of Sweet Chaos, Kingdom Pass Landmarks, shops such as the Medal Shop or Mileage Exchange, and more.
The amount of Experience Points given by a Star Jelly depends on the Jelly's Level, with these levels ranging from 1 to 8 and their respective given Experience raising exponentially as the Level increases. However, as a Cookie's Level raises higher, the required Experience Points to gain more Levels raises as well. Thus, raising a Cookie's Level becomes much more difficult and lengthy as well—especially once about Level 40 is achieved.
At launch, the maximum Level any Cookie could reach was Level 50, but this has since been raised to Level 60.
Level Up Table
Level
XP
Level
XP
Level
XP
Level
XP
Level
XP
2

60

12

480

22

2,760

32

15,380

42

84,830

3

80

13

570

23

3,280

33

18,250

43

100,610

4

100

14

680

24

3,900

34

21,650

44

119,330

5

120

15

810

25

4,630

35

25,680

45

141,530

6

150

16

970

26

5,500

36

30,460

46

167,860

7

180

17

1,160

27

6,530

37

36,130

47

199,090

8

220

18

1,380

28

7,750

38

42,860

48

236,130

9

270

19

1,640

29

9,200

39

50,840

49

280,160

10

330

20

1,950

30

10,920

40

60,300

50

332,160

11

400

21

2,320

31

12,960

41

71,520

51-60

332,160

Total:

5,437,570
Soulstones
| Stars | Soulstones | Coins |
| --- | --- | --- |
| Bake |  20 | |
| |  20 | 500 |
| |  30 | 5,000 |
| |  50 | 10,000 |
| |  70 | 50,000 |
| |  100 | 100,000 |
Soulstones are a pseudo-currency used to unlock and promote Cookies, increasing their base HP, ATK, and DEF. Soulstones can be obtained from the Cookie
Gacha
, shops, Event rewards, certain
World Exploration
Dark Mode Stages, various
Landmarks
, and more.

If a full Cookie has not been pulled, collecting at least 20 of the Cookie's Soulstones will allow them to be unlocked immediately as if being drawn from a Gacha. Conversely, drawing a duplicate Cookie will instead give the player 20 of the Cookie's Soulstones as compensation. Finally, if a Cookie is fully promoted to 5 stars, drawing them or their Soulstones will instead give the player Mileage Points, with the exact value of points per Soulstone varying depending on the Cookie's Rarity.
The Promotion of Cookies requires progressively more Soulstones with each Rank. To progress through all 6 Ranks of a single Cookie, 290 Soulstones total are required.
Skills and Skill Powder
A Cookie's Skill is their individual special combat ability—specifically, an action that can only be performed when its cooldown is cleared. Skills range in utility from being offensive to defensive, as many Skills have effects such as healing, Buffs for teammates, Debuffs for enemies, and so on.
A Cookie's Skill has its own dedicated Level, requiring Coins and Skill Powder to raise. Raising this Skill Level increases the effectiveness of the Skill by improving one or more of its specific numerical stats. However, a Cookie's Skill Level value cannot exceed their Cookie Level value; thus, a Cookie's Level has to be increased before its Skill Level can also be increased. (For example, if a Cookie's Level is Lv. 10, then their Skill Level can only be raised up to Lv. 10.)
The amount of Skill Powder needed to enhance a Skill Level depends on both the current Skill Level and the Class of the Cookie. Skill Levels 1-20 require standard Powder, 21-40 require Refined Powder, and 41-60 require Pristine Powder. The Powder must match the Class of the chosen Cookie, with each Class having their own varieties of standard, Refined, and Pristine Powder. For instance, if one were to increase the Skill Level of Rye Cookie, a Ranged Cookie, from Lv.29 to Lv.30, they they would need 5 Refined Ranged Powder and 7,400 Coins.
The most efficient way to acquire Skill Powder is through completing Today's Bounties. Skill Powder can also be acquired from the Medal Shop, Trading Port/Seaside Market, Rainbow Shell Gallery, and specific World Exploration stages.
Skill Up Table
Level
Coins
Powder
Level
Coins
Powder
Level
Coins
Powder
1

0

0

21

2,000

1

41

14,000

2

2

100

1

22

2,600

1

42

15,600

4

3

200

1

23

3,200

2

43

17,200

6

4

300

2

24

3,800

2

44

18,800

8

5

400

2

25

4,400

3

45

20,400

10

6

500

3

26

5,000

3

46

22,000

12

7

600

3

27

5,600

4

47

23,600

14

8

700

4

28

6,200

4

48

25,200

16

9

800

4

29

6,800

5

49

26,800

18

10

900

5

30

7,400

5

50

28,400

20

11

1,000

5

31

8,000

6

51

32,000

20

12

1,100

6

32

8,600

6

52

34,000

22

13

1,200

6

33

9,200

7

53

36,000

22

14

1,300

7

34

9,800

7

54

38,000

24

15

1,400

7

35

10,400

8

55

40,000

24

16

1,500

8

36

11,000

8

56

42,000

26

17

1,600

8

37

11,600

9

57

44,000

26

18

1,700

9

38

12,200

9

58

46,000

28

19

1,800

9

39

12,800

10

59

48,000

28

20

1,900

10

40

13,400

10

60

50,000

30

1-20

19,000

100

21-40

154,000

110

41-60

602,200

360